Captioning on Glass is an innovative app created by the scientists at the Google Glass. Its speciality is that it can display in real time the subtitles of what other person in front of you is saying. This innovation can be of a great use for the hearing impaired and could also be used for live translations.
Researchers at the Georgia Institute of Technology have developed a technology, using connected Google Glass, to help those having hearing problems. It can very quickly make the subtitles of a real time conversation. Very suitable for those with hearing problems, it can make the subtitles of a conversation in real time. This project could not only help the hearing impaired, but also those who are trying to have a conversation in a noisy place or any film viewer having problem in understanding what the actor is mumbling.
The free application, called Captioning on Glass , relies on voice recognition included in Android phones, while eliminating one of the biggest flaws of Google Glass, namely the poor quality of its built-in microphone. This modification infact trasnforms the smartphone into a sound receiver. This has two advantages: better microphone and it can be placed closer to the person who is speaking.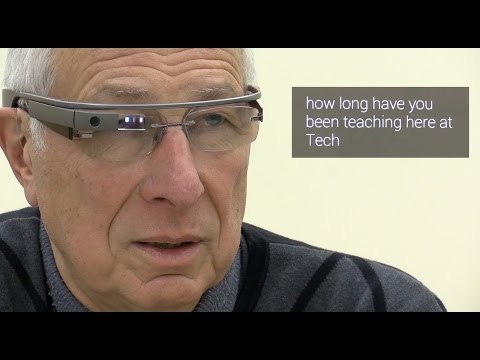 The use of this app (currently available only in English) is quite simple: say "OK Glass, Recognize this" and take the smartphone near the person you are talking to. So that the transcription of words appear on the display Glass.
Ultimately, the research team would like to go a step further than simple transcription of a conversation by incorporating simultaneous translation into ther languages. In the meantime, we can download this English transcription app on the site of Google Glass.