The start-up company Navdy is preparing to market a new head-up display that interfaces with an Android or iOS smartphone. It is able to project all the smartphone features and applications on the windshield of a car. The driver can then control them using voice or gestures.
Using the smartphone while driving is not only forbidden, but also very dangerous. However, the driver has a strong temptation to take a fast look at the screen when there is an alert signals for a new SMS, the arrival of an email or social network share. A North American start-up Navdy wants to enable the drivers to enjoy all these features without taking their eyes off the road. Also it has designed a box that connects wirelessly using Bluetooth with your Android or iOS smartphone.
This is a head-up display system that is installed on the cap of the dashboard. A miniprojecteur projects the information on a 5.1 inch transparent screen. With the help of  infrared camera, the driver can easily control various applications. For example, moving the index finger to the left will accept an incoming call, moving it to right will refuse the call. Navdy's system also will feature a microphone and speaker, allowing the user to use smartphone voice assistants like Google Voice and Apple Siri to dictate text messages, initiate a voice call or invoking a service (navigation assisted listening to music, etc). User can also configure the box so that it only displays the notifications of choice and disables others such as SMS, calendar reminders, Twitter, Facebook, WhatsApp, etc. The system is able to handle multiple events, for example, it can show the route information as well as show in parallel the arrival of incoming call.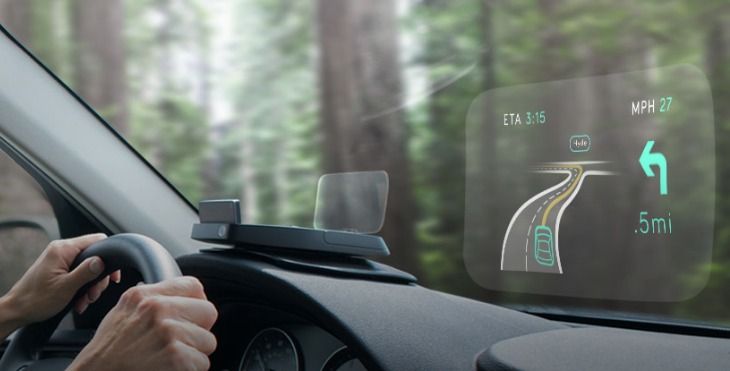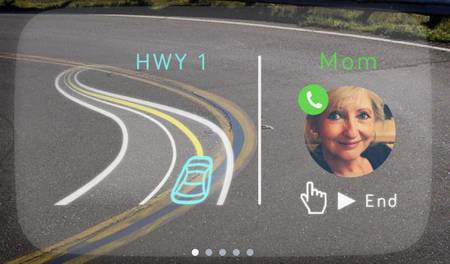 Currently, the company is designing the applications internally, but it plans to open its platform to third-party developers once the product is launched. The system will be marketed in the beginning of 2015, but initially, the interface will be in English only. It is available for pre-order and costs 299 dollars. After one month, the price will rise to 499 dollars.