A bespoke mobile app is an effective tool to advertise your services and create a community of devoted customers around your brand. It enhances customer experience and boosts sales. In other words, there're lots of benefits that can help your business grow and thrive.
Unfortunately, app development doesn't come cheap. Although the price tag depends on many factors such as business requirements and app complexity, tech stack and tools, development team expertise, and much more, there is one factor that, other things being equal, affects the price – app development company location.
In this article, you'll learn about:
The advantages of outsourcing over an in-house team.
Why outsource to Eastern Europe.
Where to search for professional app developers.
The Advantages of Outsourcing Over an In-House Team for App Development
First, let's give definitions to both outsourcing and in-house development:
in-house development means that you establish an internal team of application developers with the required skill set to carry out your project;
outsourcing is an arrangement made by a business to hire a third-party contractor to do the app development work that could have been done in-house.
In-house development has lots of benefits. For example, as it happens on-site, you can meet your development team every day and have face-to-face discussions. It means that your team knows everything about your business's needs and can share valuable ideas on how to develop your application.
However, building your app in-house has one major drawback – it's very expensive. Why so? The reason is simple – its cost involves hiring employees and paying for office rent, taxes, software, hardware, overhead costs, training, sick days, benefits, and more. For example, an average hourly rate of a mobile application developer in the US equals $60.To develop a simple mobile app you'll need a team of app developers, product and project managers, QA specialists, and UX/UI designers.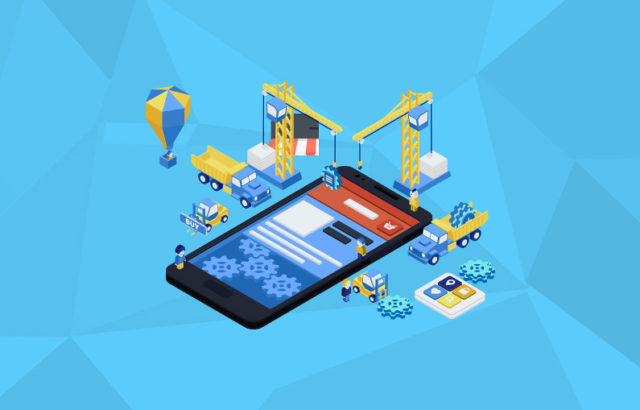 This type of software development suits best those companies that need to develop complex apps. For example, if your company develops a unique technology or product that will be used globally, then in-house development is what you need. In other cases, you'd better choose outsourcing.
Outsourcing is popular among SMEs and represents a more cost-effective solution that has lots of variations.Hiring a software development agency means that you hire a dedicated team that has already carried out a number of projects. Therefore, they don't need time to learn how to get along with each other and every member knows their job well.
As for the costs, they provide cost estimation based on the number of hours it will take to build your app.
Offshore outsourcing often becomes the most viable solution in terms of price and quality. When you outsource app development you receive:
expert analysis of your project;
scalable and skilled app development team that has expertise in your niche;
full-cycle application development from business idea analysis to app release, and additional post-release support and maintenance;
reasonable costs if you outsource to a company that resides in a country with lower hourly rates;
seasonal hiring or hiring a development team for a particular project with the possibility to scale which means you can add or remove developers depending on the project needs.
Why Outsource to Eastern Europe?
There are many countries you can outsource app development to. Here are 5 reasons why outsourcing to Eastern Europe may be the best option:
High level of professionalism and good skills. In Eastern Europe, there is a well-developed educational system in STEM disciplines. For example, in Belarus alone, there are about 75,000 STEM students that graduate each year, and a lot of foreigners choose this country to receive education.
Attractive pricing policy. An average software developer hourly rate in Eastern European countries starts at $25 per hour while in Australia or the US it starts from $50.
High level of English proficiency and cultural similarities. You won't experience any cultural shock when working with these specialists as they have European cultural code.
Vast talent pool. Due to the development of outsourcing in Eastern European countries, it becomes an attractive sphere to work in. As a result, there appear IT courses, IT hackathons, and the number of students who decide to study software development is constantly growing. Due to the high competition in the sphere, the quality of IT services provided by Eastern European countries is really high.
Little time difference. You won't face project delays because the time difference is not that big. Moreover, most of the companies are ready to adjust their working hours to your business.
Where to Search for Professional App Developers Online
Once you decide to build your app, you need to know where to look for software development teams. There are several ways to find a development partner:
Google is the most popular option to search for software development companies. The only issue with Google is that you have to be careful and thoroughly vet companies you find on there.
Check out professional websites. Websites like Clutch or Upwork provide reliable information about the development companies. There you can find real feedback from companies' previous customers and select the companies with the needed level of expertise.
Use social networking sites. As you find a few companies on professional websites, go to LinkedIn and Facebook to learn more about the companies. Check if they have a blog, what they post on their page, and how they position themselves.
Conclusion
Choosing the right outsourcing destination for app development is essential. It should be the first step you take in your app development process, as choosing the right contractor will help you save a considerable amount of money and get a high-quality app.
Many small and medium-sized businesses choose outsourcing as the best value-for-money solution. However, not every outsourcing company can offer a high-quality service. That's why you should dedicate some time to search for the right outsourcing app development company. Eastern Europe is one of the best places to outsource app development. Eastern European countries have gained a reputation for providing high-quality products and having extensive expertise, all at a reasonable cost.