The AN-225 is the longest and heaviest aircraft in the world! Originally designed to carry a Soviet space shuttle, it is now able to carry no less than 253 tonnes of cargo on board: a record. We tell you more about this incredible transporter that does not go unnoticed. 
The Antonov AN-225 Mriya  is a very large transport aircraft designed by the Ukrainian aircraft construction company in the 1980s, it is recognized as the longest and heaviest aircraft ever built in the world. It also has many other world records. In one flight in 1989 with duration of 3 hourse and 30 minutes, it beat 106 world records.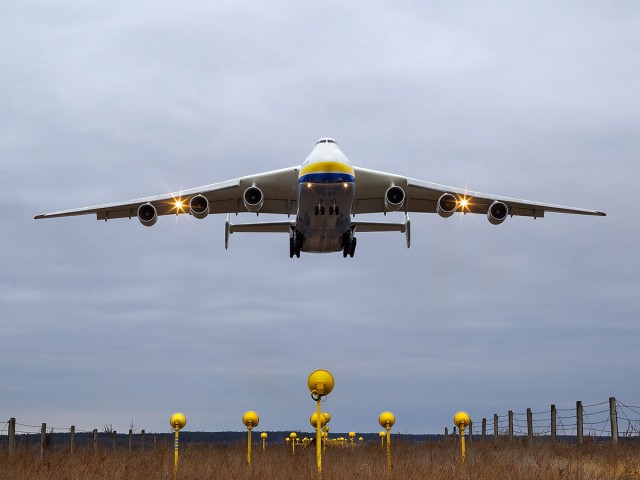 This unique aircraft is powered by six turbofan engines. Some of its extraordinary capabilities: it can fly 4000 to 14 000 km, depending on its cargo load, also it can reach a cruising speed of 800 km/h of cruising speed. According to the engineer and tester Anatoli Boulanenko, it looks lean like a fighter aircraft. We can no doubt say that its imposing stature does not seem disproportionate, yet still it measures 84 meters long and has height of 18.1 m.
The first and only AN-225 was completed in 1988 after four years of hard work. The first flight of this huge machine was completed on 21 December 1988 and lasted 74 minutes in the sky of Kiev, Ukraine. This very large aircraft was originally designed to carry the Russian space shuttle Buran.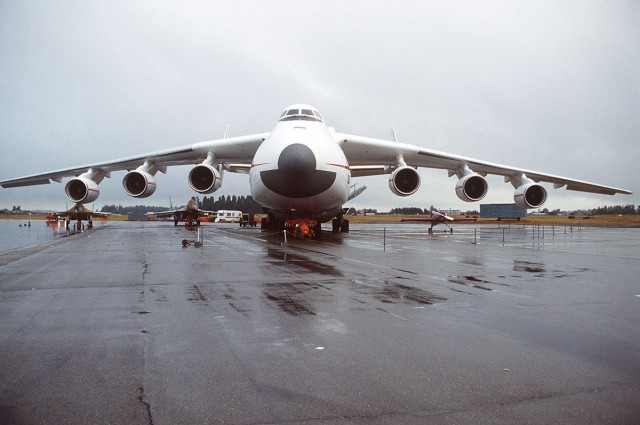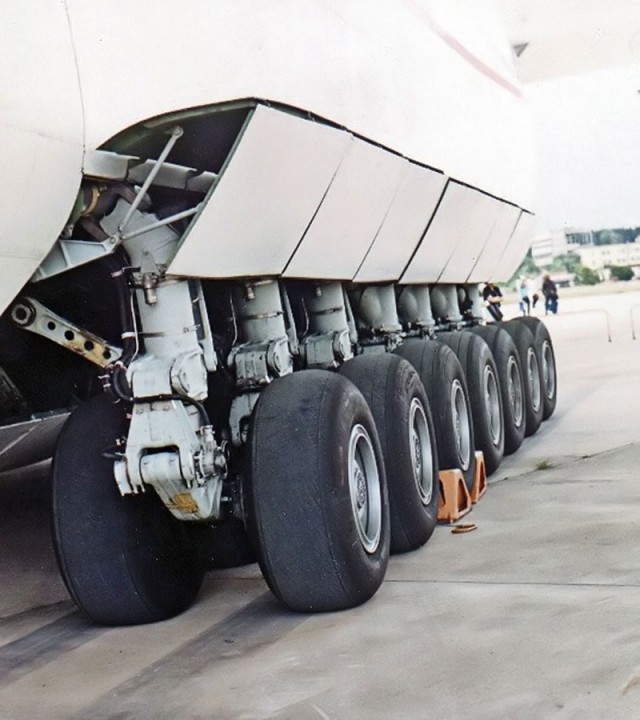 It was later renovated and reintroduced for commercial operations with Antonov Airlines. The AN-225 was able to simplify the transport of oversized goods. In terms of innovation, the craft was equipped with 32 wheels at the undercarriage, improving its movements on the track.
The AN-225 has since become the workhorse of Antonov Airlines company. It has participated in the transport of objects that were previously impossible to travel by air such as locomotives or generators weighing nearly 150 tons. It is also an indispensable asset to international relief organizations. Indeed, the ability to quickly transport huge loads can allow disaster sites to be supplied with food, clothing and tools…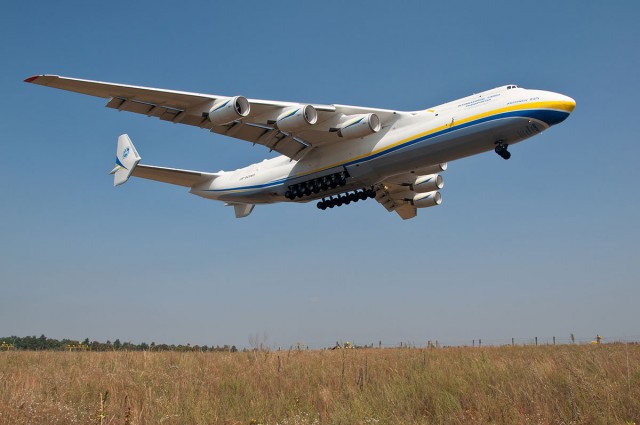 The imposing craft numerous records to his credit. In addition to being the longest and heaviest aircraft in the world, the AN-225 carried the the heaviest cargo (186.7 tonnes) but also the the longest cargo (42.1 meters) on board.
Moreover, on August 11, 2009, an outstanding cargo was loaded on the aircraft. It was a generator for a gas power plant in Armenia, it measured 16.3 meters long and 4.27 wide, but also weighed 189 tonnes. In June 2010, the AN-225 carried the longest cargo ever sent by air, these were two new 42 meters wind blades which traveled from Tianjin in China to Skrydstrup Denmark.
The AN-225: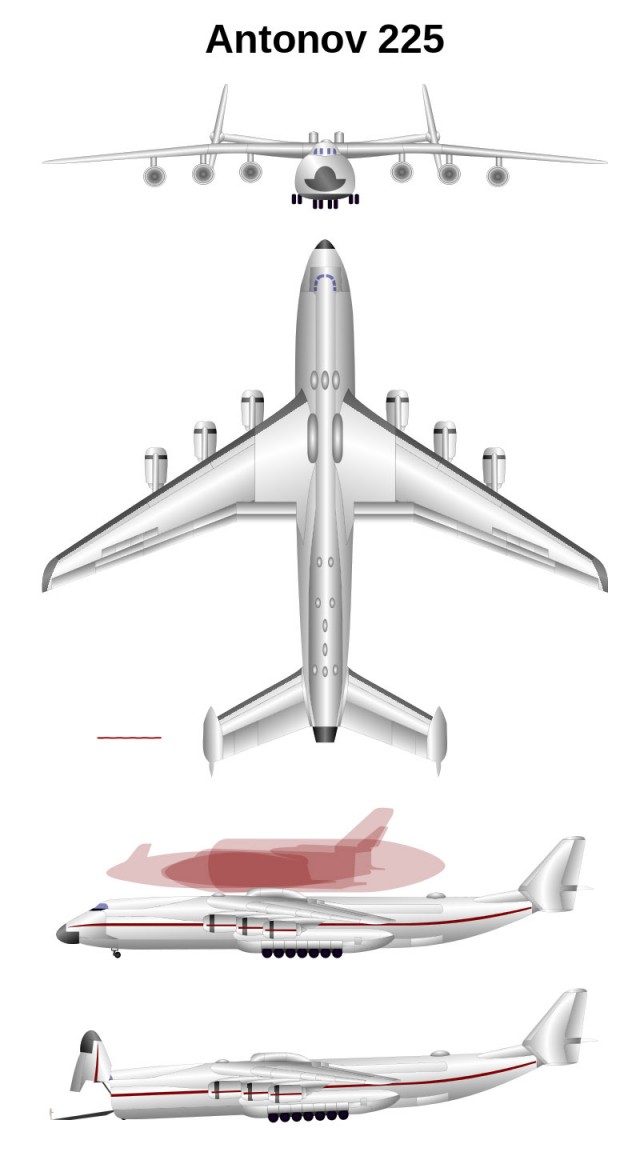 AN-225 Mriya (green) compared to other existing aircraft in the world: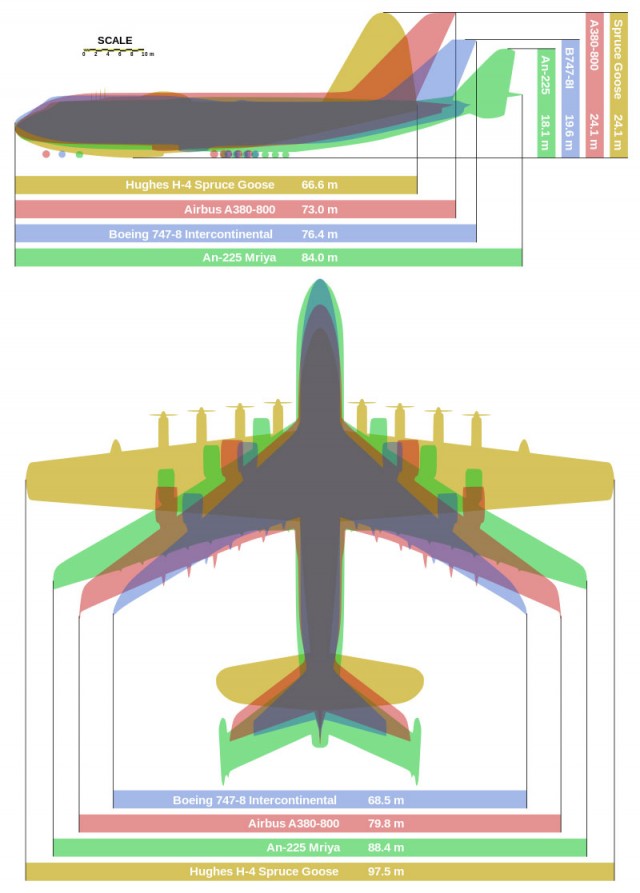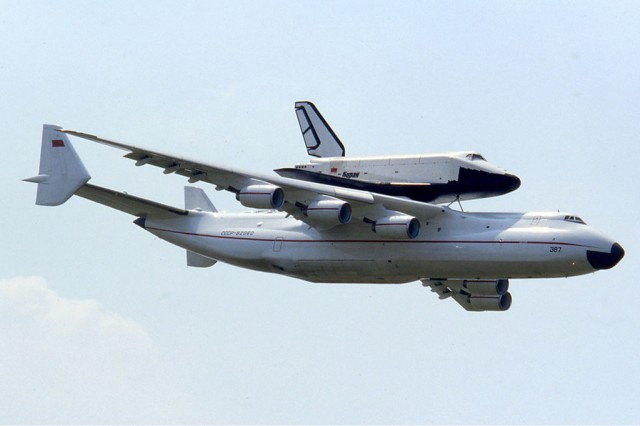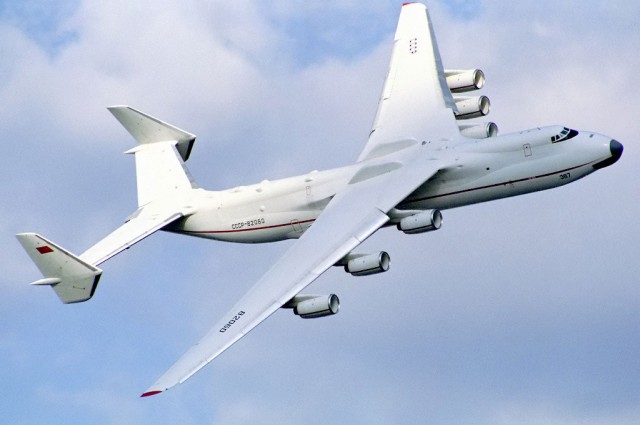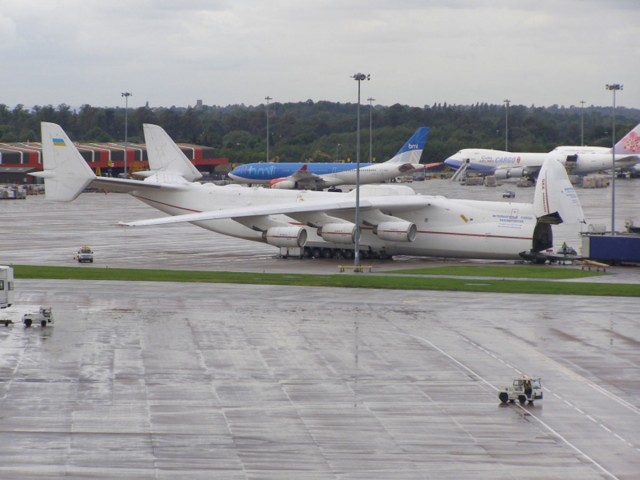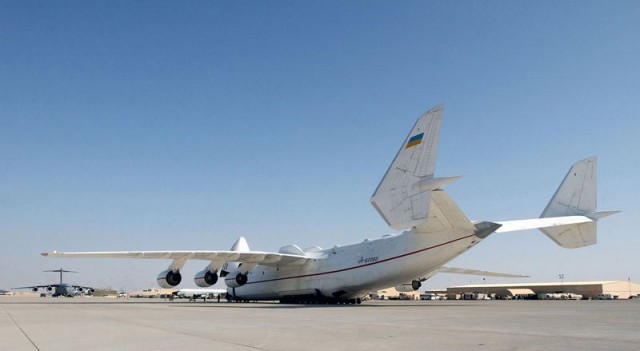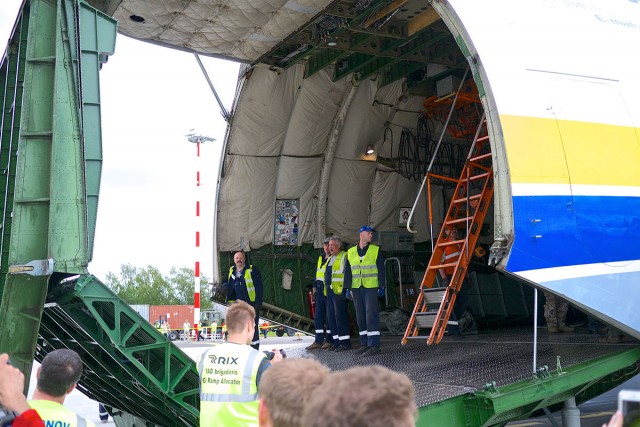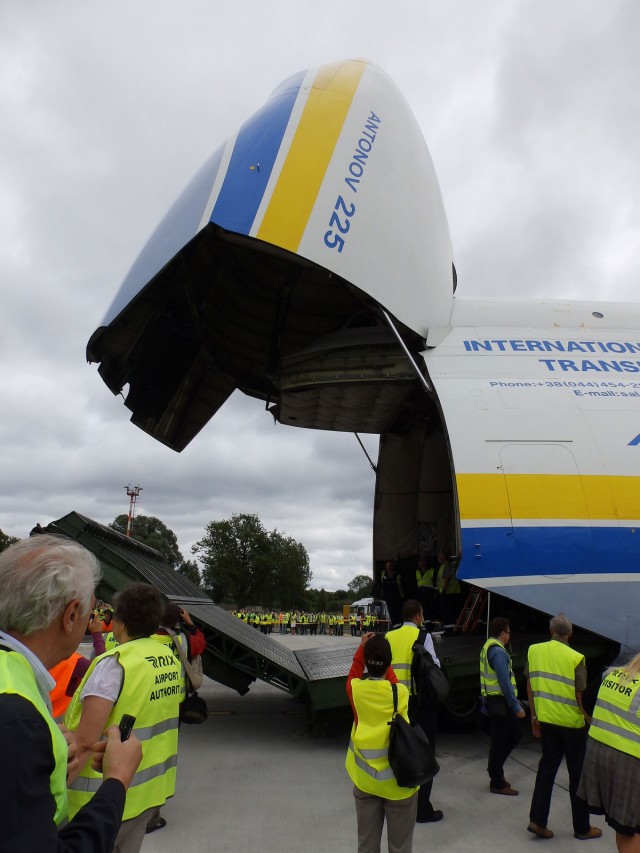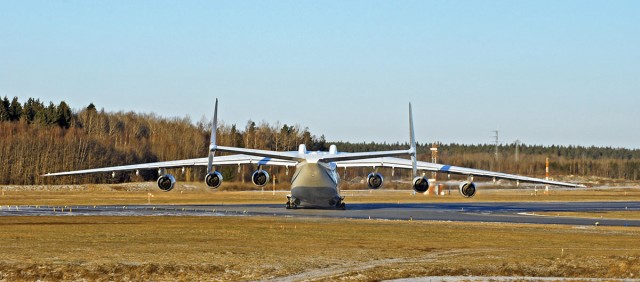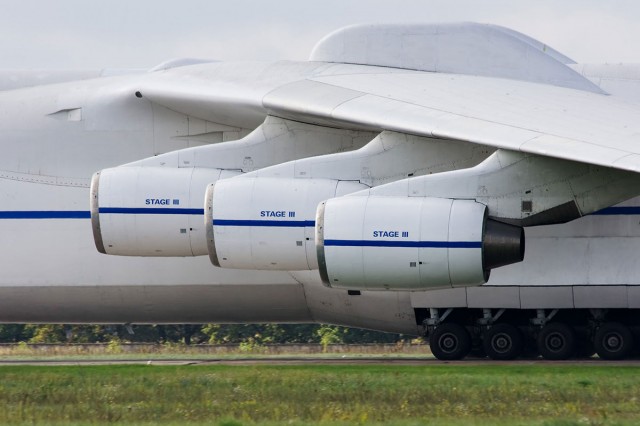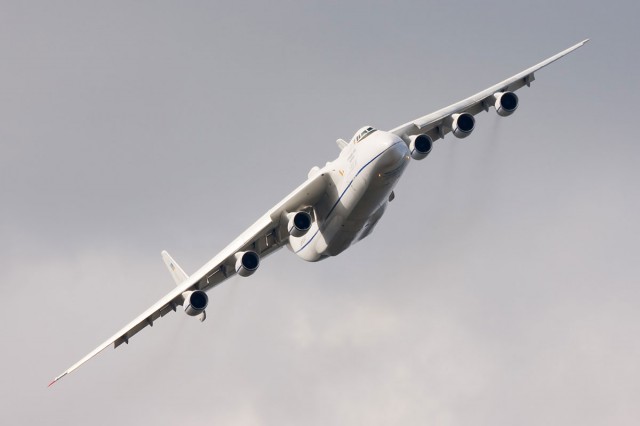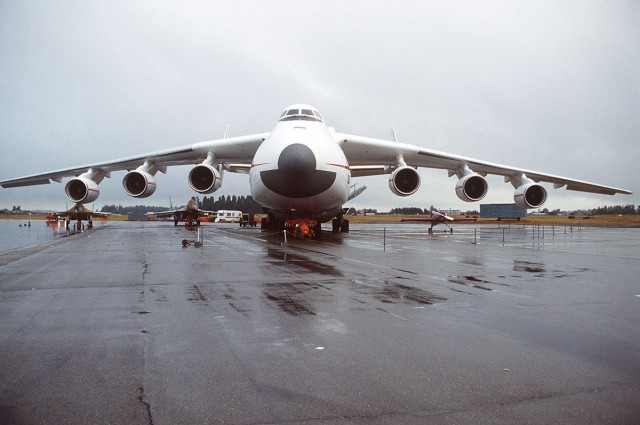 This aircraft is awesome! The Antonov AN-225 has in total 240 records to its credit. We would love to climb on board this aircraft