A novel smartphone application  named as Thaw allows you to interact with other computing device just using the touch interface of your smartphone screen. Developed by the Tangible Media Group at MIT, the system allows you to manipulate files and multimedia content, as well as, transfer it from one device to another. You can also play PC games or videos using your smartphone.
While there are many solutions available to connect a smartphone to other devices like PC, TV, or tablet, yet these interactions are often quite limited or not very ergonomic. What if you could directly use the mobile screen to capture what is on the screen computer screen and then be able to manipulate and transfer content or manage the interfaces.  That's exactly what you can do with Thaw , a new app developed by the Tangible Media Group at the Media Lab at the Massachusetts Institute of Technology (MIT). According to designers it is a "new system of interaction that allows a large screen and a mobile terminal to work together seamlessly".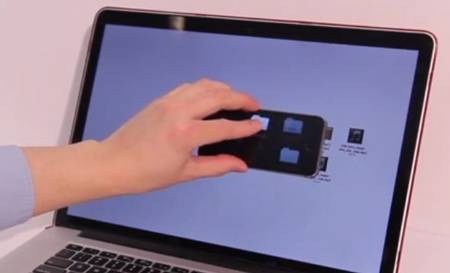 In a demonstration video posted on Vimeo , we discover the many possibilities offered by this application. Approaching the PC screen with the smartphone, a user will see the files that are on the Windows Desktop on the smartphone. He can then use the touch screen of the smartphone to move the files from one area to another of the screen. File transfer is just as simple: using the mouse select the content and then drag it on the screen of the smartphone. Similarly, Thaw retrieves an active internet page with a simple gesture. It is therefore easy to imagine other practical uses….
In the video demonstration, the Tangible Media Group places a great emphasis on the possibilities of using Thaw for video game control. Thaw can turn the touch screen of smartphone into a joystick to control the actions with gestures and movements. Thaw creators insist that this technology can be integrated with existing terminals without hardware modification. They do not provide any timeline about the marketing of the project.