Medtech is a company specializing in the design, development and commercialization of surgical assistance robots. Its latest product is ROSA Spine™, its a new assistant robot used in minimally invasive surgery of the spine.

Medtech launched in 2002, is an example of French success in robotics. Launched in 2013, the revenues of company are up by 42% to 2.5 million and it has already commercialised its first neurosurgery assistant robot worldwide. Medtech intends to become a leader in the domaine of surgical assistant robots by the official launch of a robot to assist in the surgery of spine. This new robot has been named as ROSA™, Spine.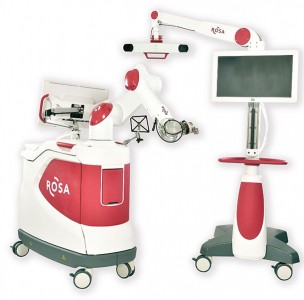 Bertin Nahum, President and Founder of the company, made the official launch of the robot during the conference Eurospine which is one of the major conferences in Europe related to spine surgery, bringing together over 2000 experts. According to the official statement released by Medtech: "The commercial launch of ROSA ™ Spine is part of our development strategy. EuroSpine annual conference is one of the major events in Europe and is a unique opportunity to present ROSA ™ Spine to a wide audience of international surgeons."
Last July, Medtech has obtained the trade mark of ROSA for marketing of the robot in European market. Rosa Spine ™ is primarily intended to fix pedicle screws of which more than a million surgical procedures are performed each year worldwide.