Sony, the Japanese manufacturer, has just introduced a device for converting any pair of standard glasses into smartglasses. This is a kit comprising of an electronic module and a 0.23 inch OLED screen that can be set on the spectacles to be transformed into smartglasses. The device will enter production starting from the next year.
Although Google Glass has created a beautiful media effect for the last few months, it is clear that the buzz appears to be disappearing with time. Over time, the Google Glass is struggling to convince customers, to the point that even Google does not anymore seem too believe in the concept. For prof, Sergei Brin, a co-founder of Google, which two years ago wore these glasses in every public appearance, has recently shelved them. Almost half of the developers working on apps dedicated to Google Glass have stopped working on them. Another bad sign, the Glass Basecamps, stores dedicated to the spectacles where customers could come, try and buy them (1,500 dollars), will soon be closed. Drawing perhaps from the lessons of this experience, Sony is trying a different approach to popularize the concept. Next month at the Consumer Electronics Show, the Japanese firm will present a kit to turn any pair of glasses smartglasses .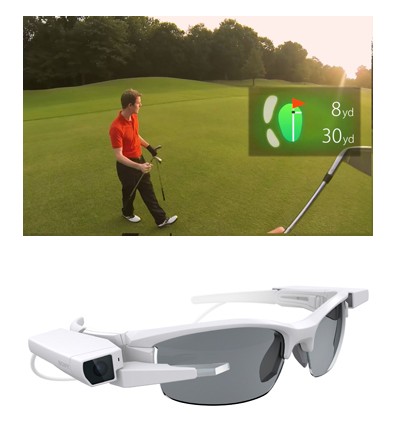 Dubbed as SmartEyeglass Attach!, it is a module that can be just set on the frame of just any glass. It sets a mini 0.23 inch OLED screen to the right lens. This miniature screen delivers a resolution of 640 x 400 pixels. The electronics is based on a system on a chip ARM Cortex  A7 processor with Wi-fi and Bluetooth connections, a compass, an accelerometer and a touch sensor. The whole system is powered by a battery of 400 mAh, with a total weight of about 40 grams. Sony says it is preparing a Software Development Kit (SDK) for developers to imagine different applications. The SmartEyeglass Attach Module! can be operated independently or combined with a smartphone via a wireless link. The Japanese manufacturer intends the product to be used for sports (running, golf, tennis, cycling, etc.) and also by professionals for specific business applications.
The fact that this module is removable allows it to be used only when needed and be able to remove it in situations where it is not allowed or tolerated. Sony thus addresses one of the main criticisms made ​​to the Google Glass as they were denied access to certain public places such as cinemas and bars. In the case of cinemas, it was to prevent any attempt to hack a film and in the case of bars, to preserve the anonymity and privacy of other guests. If Sony may have got it right about the fact that people will be more attracted by a removable system, the other crucial point will be the price. For, despite its usefulness, this type of product is still currently a gimmick. Sony has yet to report on this, merely stating that mass production will begin next year.