Backpackers and Travelers, who travel a lot, often have to make some tough decisions as they often have limited luggage carrying capacity. That is why, during the travel they often have to laundry a lot because of the limited number of clothes that they are carrying. To all such people Scrubba has come to their rescue, claimed by its designers as being the most compact, portable and lightweight washing machine. It allows you to wash your clothes wherever you go.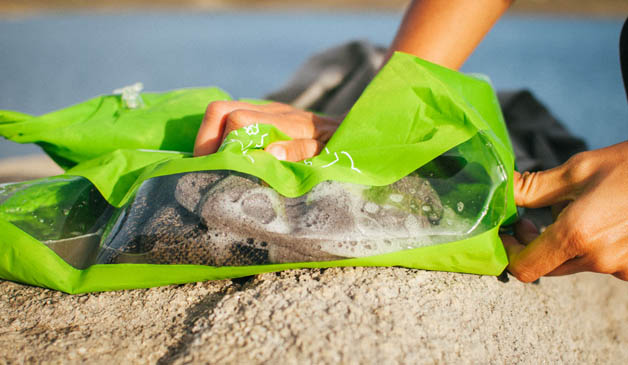 The invention is the brainchild of an Australian climber Ashley Newland. This idea came into his mind when once he was going on a climbing trip. He was faced with the decision between the number of clothes that he wanted to take and the maximum weight that he could carry. So he started working on the idea to develop a bag, that could wash clothes with minimum amount of required water and no requirement for the electricity. 
He created initial prototype of Scrubba in 2012. However, he continued working on his invention to improve it. Now, his wonderful invention has been put on sale and it costs about $55. The procedure for the cleaning of clothes is quite straightforward: Remove the air from the washing bag, place clothes in it alongwith required amount of water and detergent, then rinse and scrub the clothes inside. Once the clothes are clean, you can remove them from the bag. 
The inventor plans more improvements to the design of the bag. For example, the next version would be more handy as it could easily be fitted into a soda can. Also it would come with different pockets to keep dirty clothes, clean clothes, cell phone and credit cards. 
Source: Scrubba
Images source: Scrubba