A team of American researchers has developed a robotic brain with a huge database on the Internet. It has the unique ability to browse internet, learn new functions and store the required information on internet.
Robo Brain can be considered in line with other cloud-computing projects for robotics like RoboEarth, which has been launched by a consortium of European researchers. As a part each of these projects, scientists are trying to create a massive online database where all kinds of data and functions that can exclusively be used by robots are stored. Robo Brain will allow robots to perform tasks for which they were not preprogrammed. This is a big step! 
Robo Brain can also read and process vast amount of information available on the internet, to learn new to skills. For example, using the images from the internet it can learn about new objects and how to grasp them in real life.
Accesible at the web address Robobrain.me, it is a computing system that browses the Web for information. It will then store this information in an interconnected manner in a large scale database. This database can then be used for possible applications related to prototyping for research, personal robotics or autonomous cars.
The Robo Brain stores the collected information in the form of Markov diagrams. Markov diagrams are used to represent a large number of systems in a simplified graphical representation. The advantage of using Markov models is to simplify the calculation and processing for the robots. This will help the robot to choose the most appropriate action in a given situation.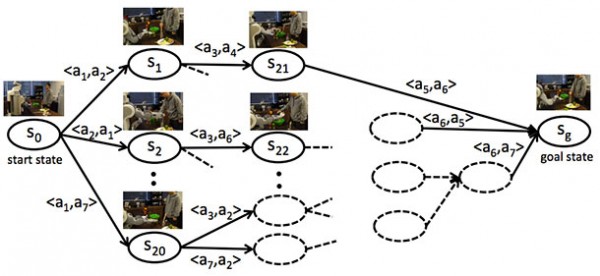 This system has been operational since June. It has been developed by a team of researchers at Cornell University, United States, headed by Prof. Ashutosh Saxena. This is an open-source project that is related to many areas of research such as machine learning, language processing, and data processing etc. The project has been sponsored by Google, Qualcomm and Microsoft, as well as the National Science Foundation, Robo Brain will eventually make robots better integrated into the society by interacting in a more natural way and with a better understanding of the world around them.