American society Nod Labs is soon launching an electronic ring "Nod" that can control all kinds of devices and gadgets. It works through a Bluetooth connection and a series of sensors that recognize a variety of gestures to control smartphones, tablets, computers and TVs. The first deliveries are expected this fall.
This ring can control a large number of electronic devices with gestures, as is done by the system Leap Motion. However, the difference between the two systems is that Nod only uses a single low power Bluetooth connection to communicate with these devices. The ring weighs about 56 grams and contains a series of inertial sensors that detect the positions and movements of the hand. Nod is worn on the index finger, with its flat portion facing the palm and acts as a touchpad to respond to the gestures made with thumb.  On the sides of the touchpad area are other sensors that detect contact with adjacent fingers.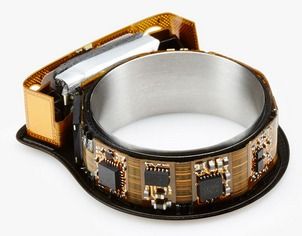 Thanks to this configuration, the ring can recognize gestures made ​​with two or three fingers and a number of movements such as rotation etc. Nod is compatible with smartphones and tablets using Android and iOS, the computers with Windows and Mac OS X, portable cameras GoPro brand and some latest generation TVs. In addition to that, the ring can also connect to  Wi-Fi devices using the smartphone, with Bluetooth acting as bridge. Nod Labs also offers an API so that developers can develop new applications.
Examples of its use that can be seen in the video presentation. As shown you can control music playback on a mobile phone, navigate a document by turning the pages of the index or typing text on a virtual keyboard by moving your finger from one key to another using the Swype technology. Nod is waterproof up to 50 meters deep and has a 23 mAh battery which, according to its designer, ensures an autonomy of one day. The ring is available for pre-order costs 149 dollars and will be available from next autumn.