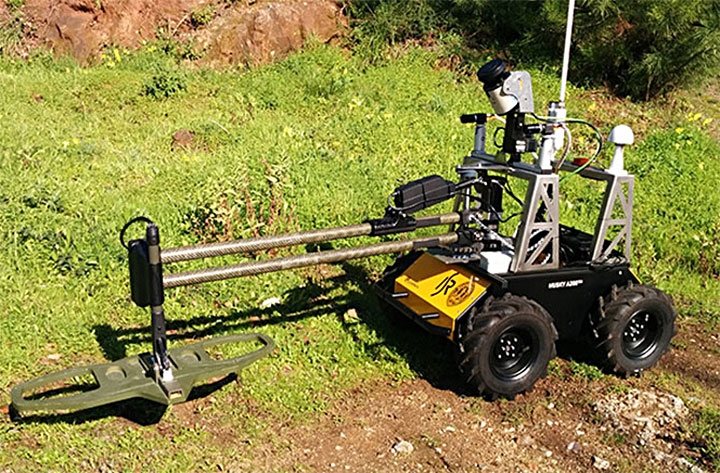 Like Chemical, biological and nuclear weapons, known as the weapons of mass destruction, the mines are also one of the biggest threats to humanity. The exact number of landmines deployed around the world is unknown. However, according to an estimate there are at least one million unexploded mines buried in the different theaters of wars around the world. Each year they kill and maim hundreds of military and civilian personnel alike.  There have been efforts to outlaw the use of landmines altogether, for example, the Ottawa treaty in 1997. However, despite of these efforts the already buried mines still need to be deactivated as a mine can remain active for more than 50 years. Realizing this danger the researchers at the University of Coimbra in Portugal have equipped a Husky robot with a landmine detecting capabilities.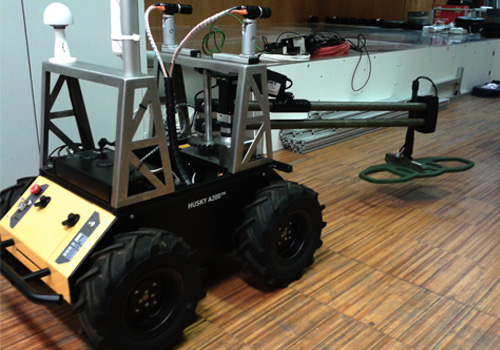 In fact the Open source husky robot has been designed and developed by the Canadian company Clearpath Robotics. Clearpath Robotics gave a robot to University of Coimbra for research. Originally, the robot did not have the capability to detect the mines. University of Coimbra equipped this remote controlled robot with sensors, metal detector arm, GPS and stereo vision to make the robot capable of detecting mines. The mines can be detected using a metal detector or a Ground penetrating radar. Hence, the robot can get closer to the mine and detect it. Even if in a rare case the mine blows up still the man operating the robot is saved from the same fate.
Still the robot lacks the capability to disarm the mine. However, once a mine has been located a Digger Tank can be used to destroy it or it will become easier for the experts to disarm the mine. The international humanitarian project TIRAMISU has adopted the use of Coimbra robot in its ongoing operations related to locating, disarming and destroying the  mines across the world.