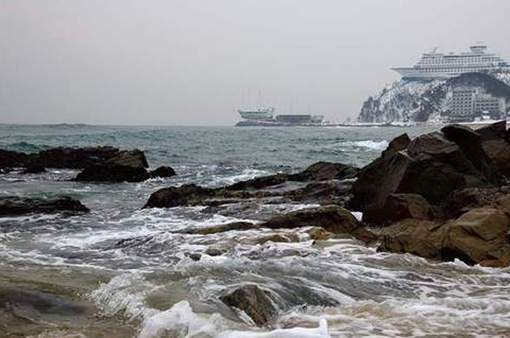 No, this is not a cruise ship that was  found above the rocks after a violent storm!!! In fact, this luxury boat is nothing more than a hotel, that is built in a particular way at a particular place.
If you want to sleep in a luxurious cruise ship without leaving the mainland, it is possible in the city of Jeondongjin, South Korea. Once there you can easily find the "Sun Cruise Hotel", as this gigantic boat hotel perched on top of a cliff is recognizable from far off.
If the ship can not sail, the sound of the waves and the beautiful ocean views from the sun terrace of the hotel make it a place of prestige among the tourists. Here, there is no risk to suffer from seasickness, a significant advantage! The hotel, which opened in 2002, now has 211 rooms. The "ship" also has a Western restaurant, a Korean restaurant, a pool, a karaoke bar and a nightclub.