This is a question that people have been asking since Facebook became popular. On Facebook, there's the wall where all can see all posts, comments, likes, and replies. In addition to that, there is the Messenger, which now acts as an independent app too.
You have to sign in with your FB account, though. Messenger conversations can only be seen by those involved. So, as people stop talking to each other physically, something like the FB Messenger covers for that.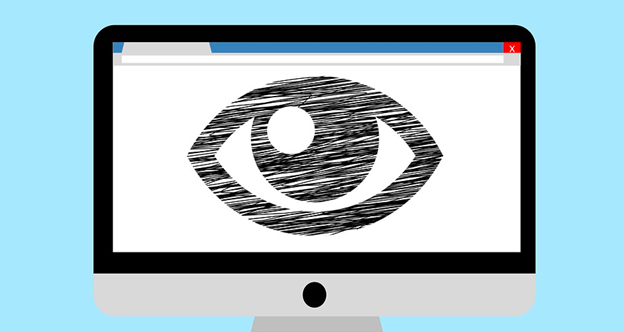 The silent but 'loud' communication has propagated the need for spying. Children and youths are being bullied every day via such platforms. Employees may be spreading rumors about your company without your knowledge.
Other times, you may want to spy on your spouse because things have not been straight of late. For you to do that, you need a spying application or solution. Here, we are going to introduce one of them.
You may already have read about it, but you don't know how to use it. Let's see how you can use this spying application to spy on someone's FB Messenger without alerting them. In the end, you will see how easy it is your targets remain in the dark.
Part 1: Spy on Facebook Messenger with Cocospy Application
When spying, in general, you need to make sure that your target does not know anything about it. Next, you need to get the spying results as soon as they happen. That is why we want to tell you about the Cocospy monitoring application.
This is an app that has witnessed millions of downloads in more than 190 countries. The numbers are still rising. The reason behind the fame is that Cocospy never reveals its identity. It uses the stealth mode feature to hide from the targeted user.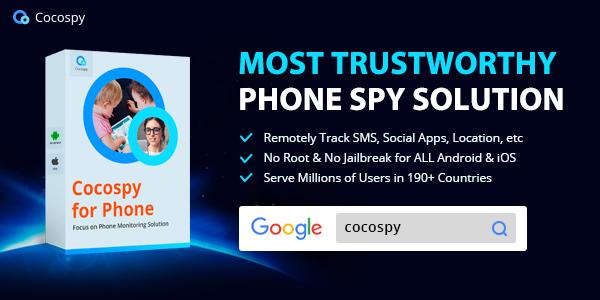 So, unless you decide to blow your cover, Cocospy will never do that. Further, it can spy on the Messenger in both Android and iOS platforms. The best part is that you don't need to root or jailbreak the targeted phone to spy on it.
Cocospy uses its powerful cutting edge technologies to spy on the desired devices without tampering with the OS. To know how it works when spying, visit Clickfree to get all the details.
When spying on the Messenger, Cocospy will show you everything. That means you will see all the messages, contact details of those involved, timestamps, and any shared photos and videos.
If you want more, you can fetch the target's FB username and password using the keylogger feature.
If you are spying an Android target, Cocospy demands a one-time installation on that phone. You will, however not need the phone again when spying since the results will be available online.
In iOS, Cocospy does not need any download or installation. It uses the target's iCloud ID to spy on the iPhone/iPad. Once you have them, all that's left is registering an account online and verifying the iCloud login details.
When displaying the spying results, Cocospy uses a user-friendly dashboard that is compatible with all browsers. You can, therefore, view the updates any time using any internet-enabled device.
It's also secured so as not to leak any information to unauthorized access. Cocospy uses its cloud to sync and relay the information to your dashboard. It, however, does not store the data in the cloud.
Now, what else do you want to know about the best Facebook messenger spy app? The Cocospy website has more of that plus the demo page, too, for you to see how it works. Here, we will proceed by showing you how you can use it to spy on the FB Messenger.
Part 2: How to Start Spying on Facebook Messenger Using Cocospy
Requirements
If the target has an Android, you need to install Cocospy on it. Make sure it has Android version 4.0 or above.
For iOS, collect the iCloud ID. The iPhone/iPad should have iOS version 7.0 or later
Internet connection
Email address
Steps to Start Spying on FB Messenger
Step 1: Register an account on the Cocospy website using your email address and a password. After that, choose the targeted phone's operating system to continue.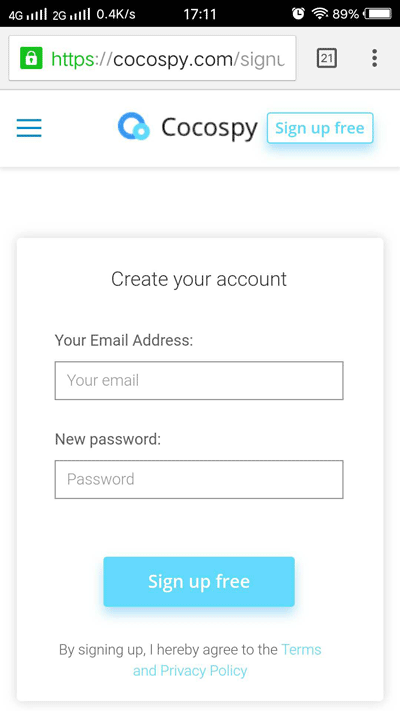 Step 2: You will see a page with pricing plans. Select the best spying plan for your needs and go ahead to make a purchase. You will then get a confirmation email with the receipt, set up guidelines, and login details. In Android, you will also get a download link.
Step 3: For Android, use the sent link to install Cocospy on the targeted phone. Make sure you activate stealth mode by selecting the 'Hide Application' option. Next, finish up the installation and login to your account using another device.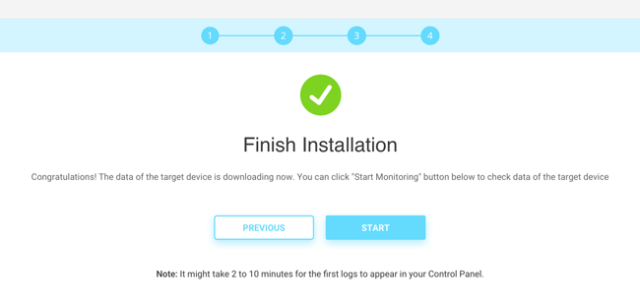 Step 4: In iOS, after the confirmation email, login to your account and verify the targeted phone's iCloud ID. After that, choose the device you want to spy and wait for the Spyic and iCloud synchronization.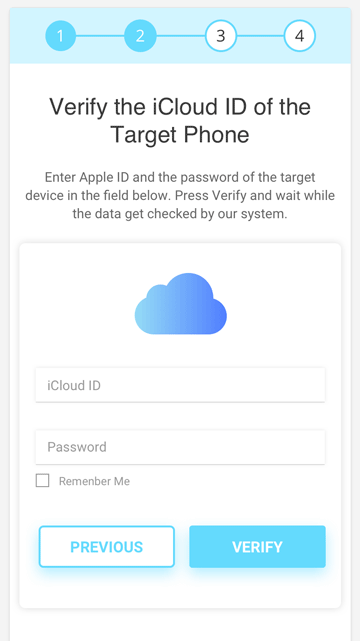 Step 5: Once you re-access your account and wait for the syncing, in both Android and iOS, the dashboard will appear. It will have the features on the left and the phone's summary on the right.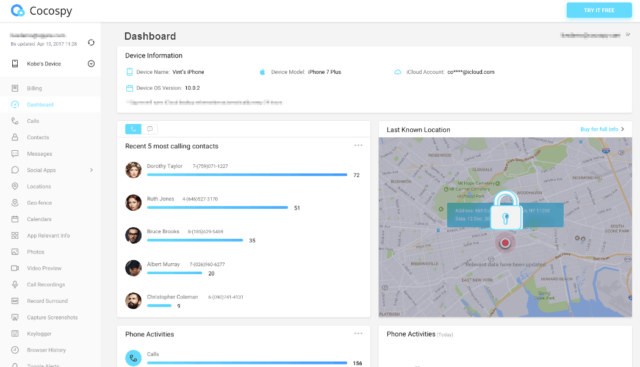 To spy on Facebook Messenger in Android, click on Social Media to access the dropdown. In the list, locate FB Messenger and FB Messenger Lite.
Click on them, depending on what your target is using to see the messages. You will also get the contact details and timestamps.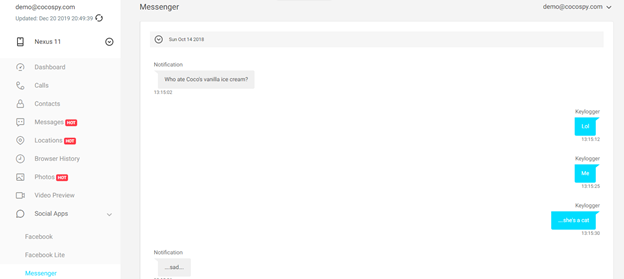 In iOS, go to installed apps and locate the Messenger. Click on it to get the iPhone's/iPad's messages.
NB: Once you purchase the Cocospy package, you get to spy on FB Messenger for free. You will also get other vital spying tools.
Conclusion
That's how you spy on Facebook Messenger without getting noticed. Once you deploy the right app like Cocospy, you will get everything the target is doing on the Messenger. The good thing is that it can spy on both the Messenger and the Lite version too.
So, whatever your spying motive is, Cocospy will help you out by delivering what you need as it remains silent.
About The Author:
Aqib Ijaz is a digital marketing guru at eyesonsolution.com. He is adept in linking building, guest posting, blogger outreach, and in IT as well. He loves to write on different topics. In his free time, he likes to travel and explore different parts of the world. You can read more of his blogs at eyesonsolution.com.