Scheduling Instagram posts and even stories is now possible thanks to many tools available on the market. But the question is how exactly you will not only schedule your Instagram content but automate it for publication.
Many people consider Instagram as a type of social channel that can't be used for scheduled publications: you just snap a shot, maybe crop it or add some filters, and post it, right then and there. Yet, it's not always like that.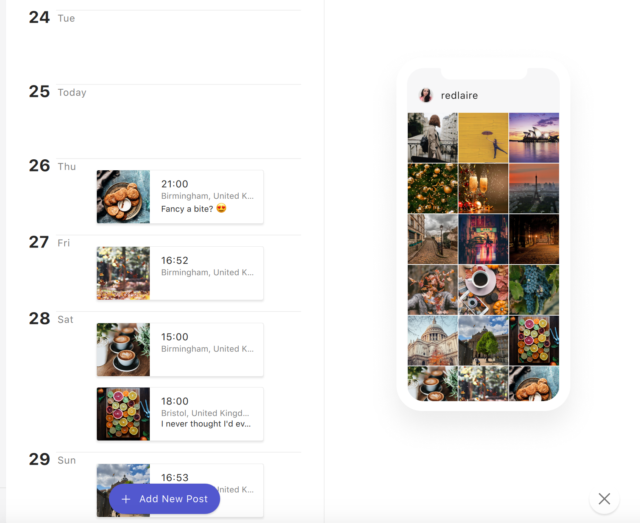 Most businesses plan photoshoots and have piles of content to be shared later. Social media managers, photographers, marketers and other professionals store content on their computers in file storages, so it's not really convenient to publish content from a mobile phone. Here where planned publishing from a desktop comes to be helpful.
The market can offer loads of social media schedulers that work in a similar manner and have slight differences. You have probably noticed that some of the tools claim that they will plan and publish posts for you, when in fact, all they do is sending you a reminder to manually publish the content. This is not what you're looking for, for sure.
What Instagram scheduling actually means is that you can create a post within the app, plan it and have it automatically posted on Instagram.
Why schedule Instagram posts
You save time
Even planning of a month of Instagram posts can take 30 minutes when you do it with the right tool. Think about how long it might take to post every post without preparation, without a thought-through caption and prior-researched hashtags. With Instagram planners, all of these is done in advance and you can save time for more important business matters.
You write better captions
If you manage social media quite a lot, you've surely been to a situation where you had to rushly delete a post that you'd just published due to some typo or a mistake. Or even when the caption was missing for some reason or you had posted the wrong image. Surely, you needed to delete it before anyone could see it. That what happens when you post content in rush.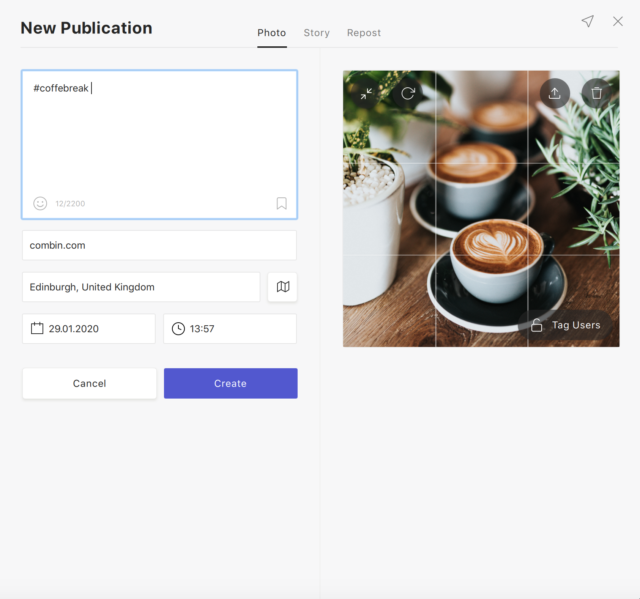 With schedulers, you will have plenty of time to double check your work and make sure the post looks neat.
You post consistently
Even if your audience is diverse.
Apart from typos, there are cases when you might have posted on a wrong day or completely forgotten to post at all. With social media content planners, you can be sure your content will go live on time down to the second.
You should also remember that your followers are waiting for your content to be published, so you want to publish consistently. Especially, if you're used to sharing your updates at the same time at regular intervals.
Scheduling tools help you make sure your posts and stories will be posted when your audience expects them to see.
You research, plan and organize your hashtags.
If you manage social media a lot, you probably know this struggle when you can't come up with the right hashtags for your new updates. If that is the case, with scheduling tools this is no longer a problem. You will be able to research relevant hashtags in advance, store them in groups and use when necessary.
You maintain your Instagram aesthetic.
A first impression can either make you or break you. And Instagram grid layout is not an exception to this rule. Scheduling tools allow you to manage and edit your Instagram grid layout in accordance with previously published posts.
So how can you schedule Instagram posts from your desktop? Which Instagram planning tool can help you do all of the above? Combin Scheduler is one of such.
What is free Combin Scheduler?
Combin Scheduler is a free Instagram planning tool that allows you to plan for auto-publication and instantly publish Instagram posts and even stories. The tool doesn't notify you with a reminder to manually publish your content like many other such tools do; it actually uploads posts and stories on Instagram automatically.
How to plan Instagram posts and stories from a desktop with free Combin Scheduler
To instantly post your publication from desktop or plan for hours, days, weeks and even months ahead, download and install free Combin Scheduler on your PC or Mac.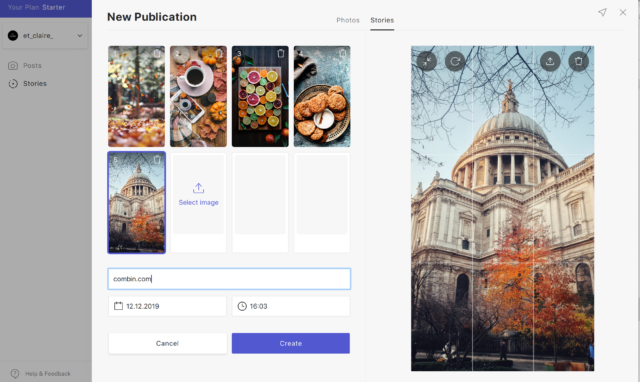 Then just do these simple steps:
Open free Combin Scheduler on your computer.
At the bottom of the main display screen, find the 'Add New Post' and press it.
Write a caption to your post, add a link in bio, add hashtags or tag other users if you like, add location, and, more importantly, add an image you want to publish.
Set the required date and time you want to see your content live.
Press the 'Create' button.
That's it! Instagram publication process has never been easier.
When selecting a photo for publication, you can edit it within the app to the aspect ratios supported by Instagram. To do so, use the crop and zoom features. You can also change the size to square, portrait, vertical, and landscape.
The tool also has the hashtag management feature, which allows you to store, edit and use a group of hashtags whenever you need.
If you want to plan a story or even a whole bunch of them, you can easily do so with Combin Scheduler. The tool enables you to upload dozens of photos in bulk just in a couple of clicks.
To plan Instagram stories, you should perform the actions already familiar to you:
Find the stories tab on the main window.
Press 'Add New Story'.
Select one or several images from your computer, set the required date and time and add a link in bio if you want.
Yes, Combin Scheduler allows you to add a link in your bio even when planning Instagram stories: you just schedule stories and add the required link. When a story goes live, the link appears in your Instagram bio.
Press 'Create'.
Apart from scheduling Instagram posts and stories, Combin Scheduler also helps you repost other Instagrammers' content to your feed. Regram user-generated content or anything you find worth sharing with your followers. With Combin Scheduler, you can move the repost badge to any corner in a photo, conceal it and alter its colour — make it either white or black.
Download free Combin Scheduler now to plan and auto-publish Instagram posts and stories from a desktop with ease! And to grow your Instagram account with ease, use Combin Growth, Instagram marketing tool.