Have you ever tried to read someone's text messages without going through their phone? If you have, then you know that you will go through countless solutions before getting the right one.
It took time for us to review the apps and other solutions before landing on the recommendable ones. You see, a software will advertise as the ultimate text spying solution.
To be honest, you cannot go for a solution claiming the need to root or jailbreak the targeted device. That way, you will get noticed since the phone will never be behaving the same way again.
So, it would be best if you had a reliable solution that is simple to use. Also, it should not alert the user as you read their messages remotely. Here is one solution that can do that and more.
Stick around to see how it works and how you can use it to read texts without installing anything.
Part 1: Read Someone's Text Messages with Cocospy without Installing Software on Their Phone
One of the reliable apps worth investing in to read text messages without the phone is Cocospy. It is actually a larger package full of spying features apart from fetching the texts remotely.
With Cocospy, you can retrieve all the texts from the target remotely and quietly. It uses the stealth mode feature to hide as it reads the SMSs. To get the results you have to log in to your Cocospy account remotely.
That means the targeted user will never know about your spying techniques. You can use Cocospy to read the text messages remotely on both Android and iOS devices. In iOS, you can check on how to read someone's text messages without their phone free of charge.
Cocospy's iOS version does not need any downloads or installation. It works with the iCloud details of the phone you are targeting. Do you have them already? It means you can set up Cocospy and start reading the texts remotely without installing anything.
The best part about reading messages from Apple devices is that you even get the deleted iMessages.
In Android, however, you need to install Cocospy once on the targeted phone. This will happen only once. After that, you can always access the messages remotely. In both Android and iOS, Cocospy does not need any rooting or jailbreaking skills.
The reason why you need to install it once on an Android phone is that it's not easy to access Android's cloud.
Once you acquire Cocospy and set it up, you can start viewing the messages remotely using the established account. Once you access it, the dashboard will always appear with the features and the phone's summary.
Among the features, you will find the messages and iMessages options. For the dashboard, it's fully compatible with all browsers which means you can use any device to log in.
Here is how you can use Cocospy to read someone's text messages without installing anything on their phone.
Part 2: How to Start Reading Text Messages Remotely Using Cocospy
What You Need
To spy on iOS without installing any software, you need the iPhone's iCloud login details. The iOS version on the phone should be 7.0 and above.
For Android, you need to access the targeted phone once to install Cocospy. It needs to have OS version 4.0 and above.
Reliable internet connection
A working email address
Steps to Start Reading the Text Messages
Step 1: Visit Cocospy's main website and register an account using an email address and password. Next, choose the phone's operating system and continue to pricing plans.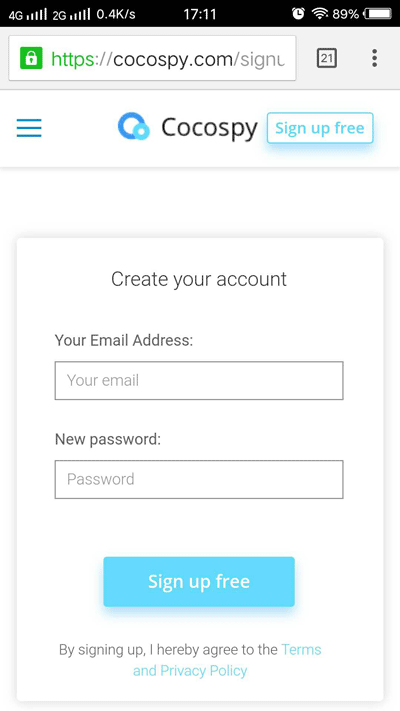 Step 2: Select the most suitable plan for you and go ahead to make the payment. You will immediately receive a confirmation email with the receipt, set up guidelines and login details. In Android, you will also get a download link.
Step 3: In Android, install Cocospy once on the phone you want to access the messages. Make sure you activate stealth mode to hide the app's icon. After that, finish up the installation process and get ready to access the texts remotely.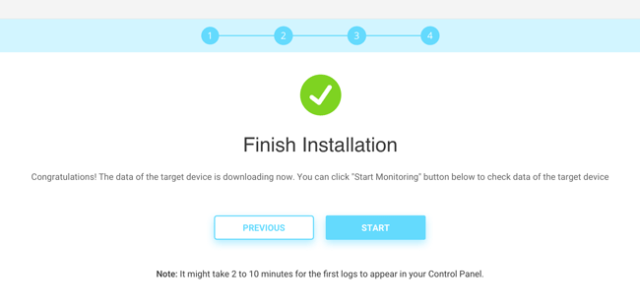 Step 4: For iOS, after the confirmation email, re-access your account and verify the iCloud details. Next, choose the device you want to read the messages from and wait for the iCloud and Cocospy synchronization.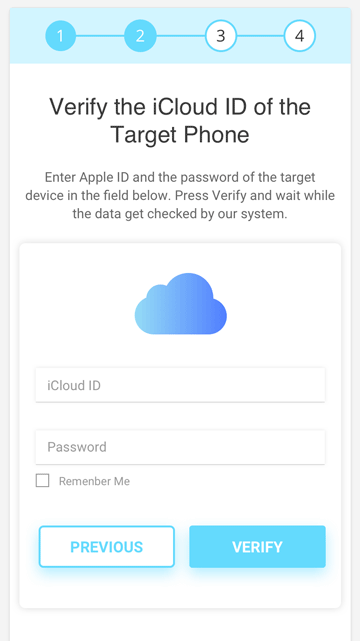 Step 5: Once Cocospy syncs with the Android/iCloud, you will see the dashboard with all the features and the phone's summary.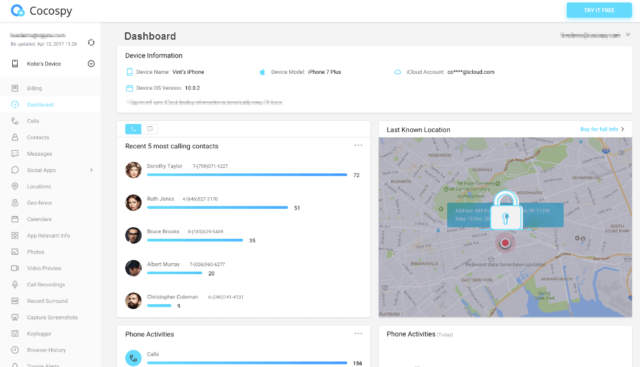 To read the messages, click on 'Messages' and 'iMessages' options to see what Cocospy has fetched for you.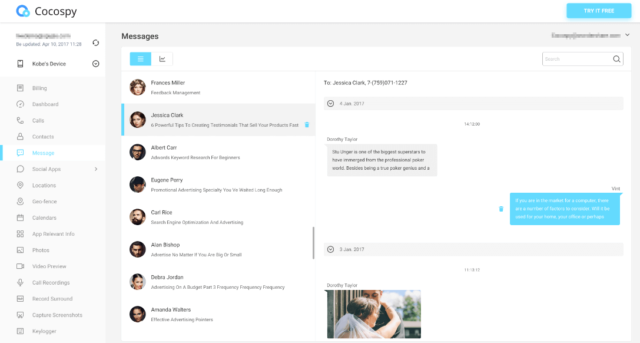 Part 3: Why Should You Trust Cocospy to Read Someone's Text Messages For You?
Once you acquire Cocospy as you remote texts reader, here is what you realize:
It takes you less than 5 minutes to set it up and start reading the SMSs remotely
It works on both Android and iOS devices without root or jailbreak
In iOS, you can set up Cocospy and begin reading the text messages remotely without installing the software. In Android, you need a one-time installation
Cocospy fetches all the texts, the contact details involved and timestamps. In iOS, you get even the deleted iMessages
It operates in stealth/hidden mode. That means it does not alert the targeted user about your spying intentions
The messages are updated remotely via your Cocospy account in real-time. You get them as soon as they are sent or received
Cocospy does not drain the battery when syncing the information with its cloud. In Android, it occupies less than 2MB memory space
You can uninstall Cocospy remotely via your control panel. You don't need to touch the phone to remove it
Cocospy has other spying features apart from texts reading. You can also use it to get the calls, contacts, location, and social media activities among other features
Conclusion
As you have seen, it's possible to read someone's text messages without installing any software on their phones. Cocospy is one solution that can do that with ease hence the recommendation.
Also, it does not demand to root or jailbreak before using it. Therefore, the targeted phone will give the user no clue about a spying software around. It's easy to use it on an Apple device without installing anything.
In Android, however, it's not possible to use such an app remotely without installing it first. The reason behind this is that, for Android, there is no central cloud for the app to fetch the information.