A team of researchers has developed a ring-scanner that is able to read any text aloud and it allows blind people to enjoy a book without needing a Braille. We explain how this useful object works! 
Although there have been many efforts to make literary resources accessible for the blind, such as the Francophone Digital Library  which offers all kinds of digital books fully adapted to reading by the visually impaired. However, despite that the literary gap is unfortunately too big to be bridged this way.
That is why a team of researchers at Media Lab in the Massachusetts Institute of Technology, has developed a connected ring that scans text as the finger moves on the page it is placed. The ring reads aloud what is written on page in real time. This ring has been named as the FingerReader.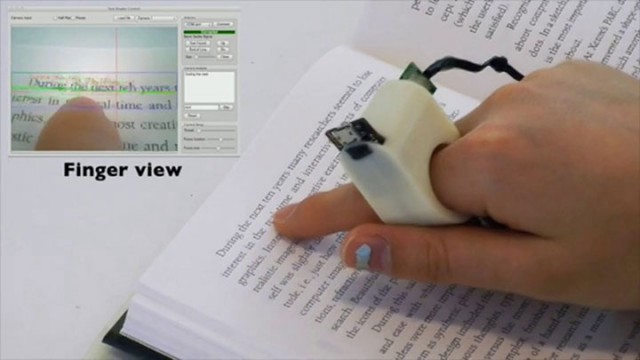 This revolutionary ring is a followup of an early invention: the Eyering. The latter was equipped with a micro-camera that allowed it to picture the objects and give their complete audio description. Researchers have now considerably improved that product.
They explain that this new ring is also equipped with a high definition micro-camera which has in fact a feedback system. On the top and bottom of the ring are two vibration motors, they help the user to know when he reaches at the end of text on a line. They also let the user know when the finger deviates too much from its path and help him to reposition his finger to resume reading. To transmit all this different type of information, the vibrations can be more or less intense or of variable duration. Similarly, the FingerReader reads the text aloud using a synthetic voice.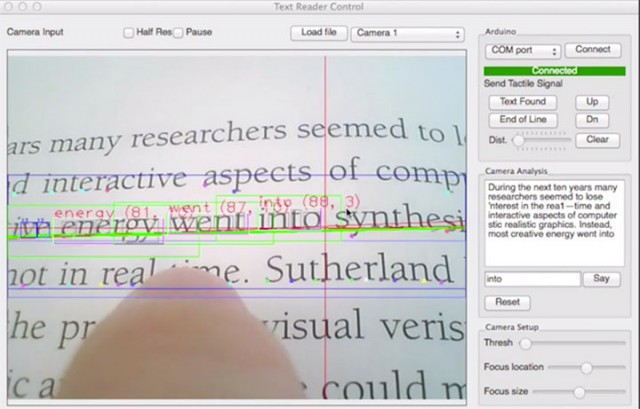 FingerReader works well on paper as well as on a digital display. However, there is a limitation the font size must not be less than 12 points. Some issues remain to be improved such as voice, which lacks human emotions. The ring will also need to be thoroughly tested to definitively validate all technical aspects of it.
The team of researchers also think FingerReader could be used by normal people to translate the text, for example. They are also working to miniaturize the ring, so that the integration of an autonomous power supply and a wireless connection to a smartphone can become more aesthetic.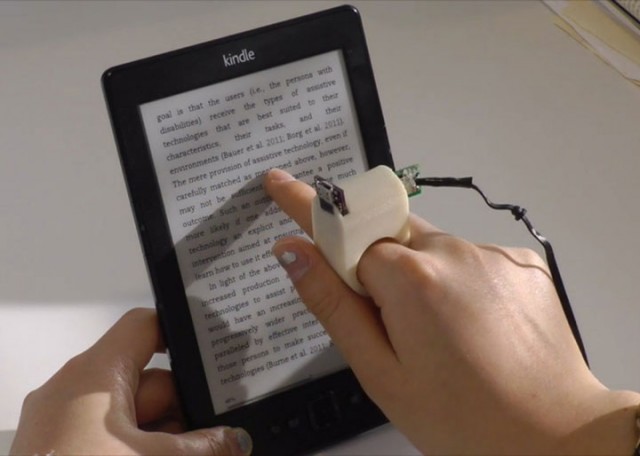 We were impressed by the usefulness of this connected ring. We welcome the innovation of researchers and hope that they will continue to improve it so that they can make the lives of blind more pleasant. Do you think that the connected objects will one day improve the lives of people with disabilities?