Are you building a website and looking for testing it before launching? We have some good news for you! A thorough check of a company's website is a prerequisite when a business is building the website and is planning to launch it globally. It's quite comprehensible that any coding skills are one's savior when it comes to creating an online website but one needs to understand that coding does not help knows whether the website shall run effectively on various browsers and platforms. For this, a company requires a testing tool like Comparium for effective and thorough testing. Comparium today is one of the top-quality automated testing tools or can be said Website checker tool helping users to perform a check-through of their website.
What makes a Comparium superior Cross Browser Testing Tool?
Comparium is a captivating cross-browser web testing platform that runs effectively and does the testing within minutes. It serves its clients to confirm the compatibility of a web site on countless OS and browsers. From doing a full-scale check of the client's site to providing the end result through email via a reclusive test utilizing a simulation program, Comparium does it all for its clients.
Features of Comparium tool
Support different browsers
Comparium examines the efficiency of a website by checking the compatibility of the performance on all browsers with different versions. To name a few browsers that Comparium tool tests are Internet Explorer 8.0, 11.0, Google Chrome 73.0, 74.0, 75.0, Mozilla Firefox 67.0, 68.0, Safari 11.0. Also, one can easily test the performance of their website on a Comparium tool irrespective of the browser they are using. This saves time and energy to download every browser and get the testing done individually. This tool will provide a well ordered and straightforward experience on every single platform.

Support various platforms
As the operating systems on the internet are increasing day by day, the company needs to check whether their website supports various platforms. Comparium tool checks the performance on Linux, Windows 7, 8, 10, Mac, High Sierra, etc. This allows a company to do cross-browser testing on any of the operating platform.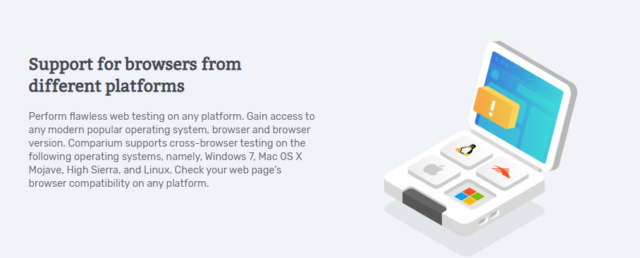 Screenshots
Comparium tool sends screenshots of errors and various messages by collecting a screenshot of the exact problem area and sends it directly to the user's email id. This way, the user need not stop and jot down every detail during the check, while he can simply relax and do the reconciliation once the entire testing is completed.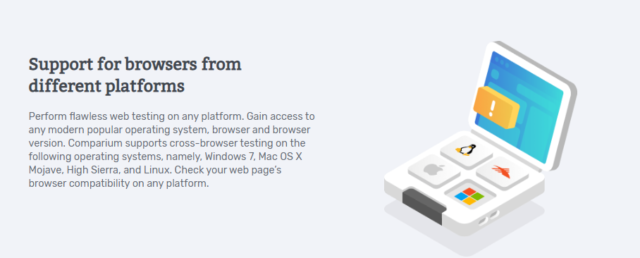 Benefits of Comparium tool
Comparium is an easy and light tool that succors in checking the website performance that will work finely and smoothly on all web browsers and dissimilar operating systems.
If the tool is used on a regular basis, it helps users of the company to keep an eye on their website as to whether it is running smoothly without any errors or bugs trying to corrupt the website. If any bug is caught, the user can build malware protection instantly and keep its website running steadily.
It cuts down on the cost of a company as it is free to use but at the same time as efficient as other paid tools work. This way, the company successes by running its website on several platforms and browsers to reach a target audience across the world without even spending a penny.
When the tool is used, the website accuracy will be improved by removing the errors and thereby scanning the compatibility of the website.
The procedure of examining the site is very simple as one just needs to paste the URL of the website and click on the check button. Further, once the test starts running, the internet connectivity is not at all required, and hence if there arises any connectivity issue, this tool will still run and produce results.
This tool runs on several operating systems which include Linux, Windows 7, and macOS.
Comparium's prospective shows it to be a safer choice for designers and website developers as one can use the tool repetitively as there is no bar for the number of times a user can use the website.
The checking of the test is so simple that even a layman can perform the test. This way, a company need not hire a professional engineer to understand and perform the working of its website on different platforms.
Conclusion
With an enormous set of choices in the market today Comparium stands out to be one website offering every check that a website needs to go through before launching globally on the internet. Because of its easy to use interface, Comparium can be composedly used for cross-browser web testing, particularly for any a start-up, new business, or even an ongoing business to check its website's efficiency. It is a free tool, so by giving it a try does not seem to be a bad idea.