According to the Indian press, this year Amazon could begin a trial of its delivery drone service Amazon Prime Air, near Mumbai and Bangalore.
Last month, Amazon had written to the air safety authorities of the United States for the permission to test its proposed drone delivery service Amazon Prime Air in Seattle. The current American law on the subject, forcefully imposed by the Federal Aviation Administration (FAA), does not allow any private entreprise to fly drones over the city. 
But due to the lukeworm progress by American administration, Amazon has decided to try its proposed system in India. The Economic Times reports that the e-commerce giant has now decided to conduct the trials in Mumbai and Bangalore, two cities where it already has warehouses.
According to a source, they might start the trials beginning from Divali, an Indian annual festival to be held this year on October 22.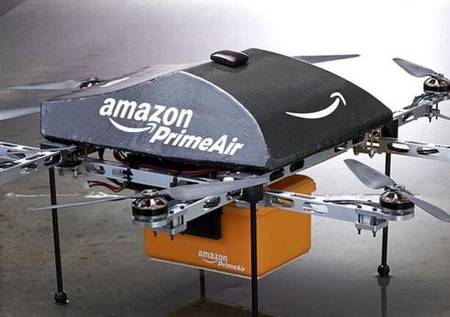 While many took the video presentation of Amazon Prime Air as a simple joke for publicity, the company has a a very coherent and pragmatic vision of the project. The goal is not to completely replace the delivery men, but to offer customers an express delivery in densely populated geographical areas close to stores. Also drones developed by Amazon are capable of lifting loads up to 2.26 kilograms of load, which covers 86% of the products sold by the store.
However, the companystill faces many hurdles to move from idea to implementation. These new trials will hopefully convince us about the safety of the system. Drones must not fall to the ground, collide with each other or with other competitor delivery droness, or get hacked by some criminal..