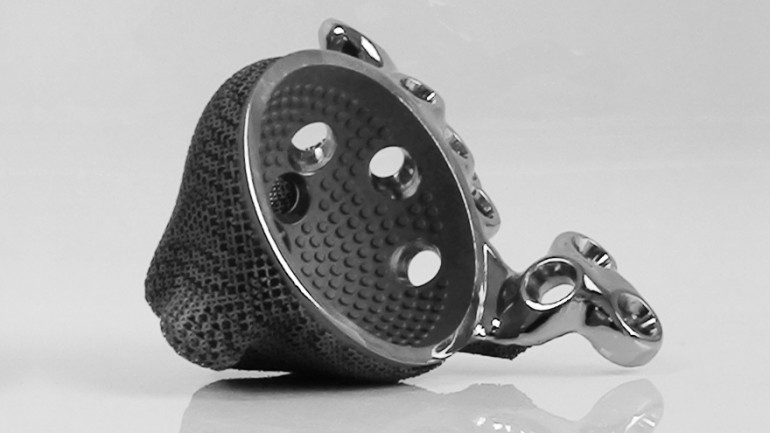 The most fascinating aspect of the 3D printing is the fact that we can make customized objects for ourselves, without going through the traditional lengthy manufacturing cycle. 3D printing has found many application in the field of biomedical  engineering specially development of customized implants for the patients. Here, we explain to you how Mobelife,  a design company based in Belgium, has designed a hip implant for a Swedish girl to free her from the shackles of wheel chair.
The 15 year old Swedish girl suffered from neurobiforma, which is congenital disease  in which a tumor develops on the periphery of the nervous system. This disease not only results in cognitive disability but also dis-figuration. In the case of the Swedish girl, surgery to remove the tumour resulted in complications and dis-figuration of her left hip. The doctors even feared that she would never be able to walk again.
Dr Rydholm from Skane University Hospital of Lund, Sweden, decided to help this little girl while he was looking after this case. He approached a Belgian based company Mobelife. This company describes itself to be specialist in the domain of customized implant design, as well as, the reconstruction surgery for bones and joints. Hence, Mobelife was given the task of designing hip implant for the  little girl. The designers at Mobelife used a tomography scan to design the implant according to the bone anatomy and strength of the bones of the patient. Then using a surgical procedure the implant was screwed to the deformed hip. The results were amazing, within few month the little girl left her wheel chair to walk on crutches, and after 18 months she could walk unaided.
We are very happy that girl found a new life thanks to the implant technology. What other applications do you think are possible for the service of humanity? If you liked this article may be you would also like: An American High School Student Makes A 3D printed Prosthetic Hand For A 9 Year Old Boy.