In many cases, the reason of truck collisions is the problem of driver's field of view. 
In order to enhance the safety of future trucks, it is very important that they must be equipped with a system for monitoring the blind spots. So, that the driver may be able to dri
ve confidently!
Mercedez-Benz, famous German automobile manufacturers, is behind this innovation to enhance the safety of everyone on the roads. Indeed, after successfully introducing blind spot detection radar technology in its tourism vehicles, it intends to extend this to trucks.
It is the truck subsidiary of the Mercedez-Benz, Daimler Trucks, which is responsible for the adaptation of this system which able to detect motions in blind spots. Named as Blind Spot Assist, this technology is aimed to assist the truck driver, especially when it has to turn right on a blind corner or an intersection. Blind Spot Assist consists of a sensor on the rear axle of the passenger side which monitors the entire length of the trailer, exceeding its perimeter by 2 meters.
This assistance can be audible and/or visual which has several functions. Assuming that all other vehicles on the road are vulnerable to the accidents by heavy weight trucks, the goal is to maximize the safety of the smallest vehicle on the road at that time. Thus, when the system detects that the driver has initiated a maneuver, by the activation of an indicator or the movement of the steering wheel, radars detects any moving object in the blind spot. In the event of an imminent collision, a light blinks with the beep sound so that the driver can react quickly.
That said, Blind Spot Assist  does not focus exclusively on the safety of other vehicles on the road users but also aims to strengthen the security of the truck driver. It can also calculate the steering angle of the trailer in the case of turning and if it is in danger of colliding with a pole or traffic lights, driver is warned.
Unfortunately, this ingenious system would not be marketed anytime soon. Because of its fame and name, the Mercedes-Benz will ensure that Blind Spot Assist is first extensively tested on the roads. That means that it will take many thousands of kilometers of testing before this technology is installed in the trucks on the road.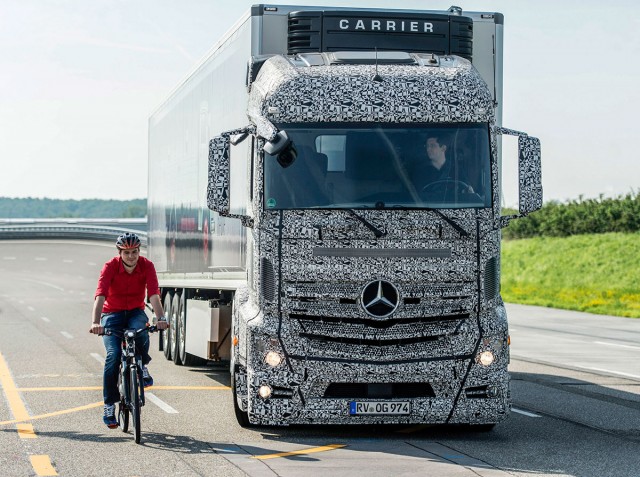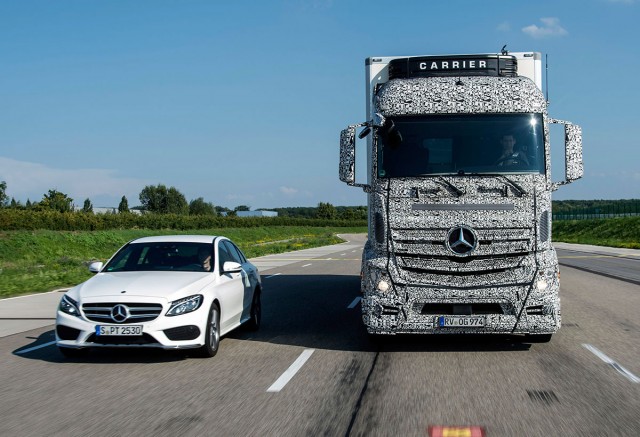 The development of this technology is really encouraging. We hope it will not take too long before all the trucks have such technology installed on them. Do you think that this early warning system can really make a difference for the safety on roads?