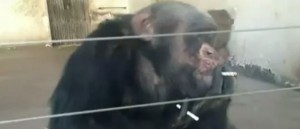 Check out the video of a chimpanzee who smokes two cigarettes one after the other in a zoo. 
In a zoo in the largest city of western China, Urumqi, a chimpanzee smokes two cigarettes one after other as would an addictive smoker. The least we can say is that the monkey has developed a taste of tobacco. Although nature keeps its animals away from bad habits, some human beings teach animals their bad habits. This is the case of a chimpanzee that has developed the habit of heavy smoking.  The poor animal could not developed this habit if anyone had not given him a cigarette.
To see the video click here.