We know that a picture is worth more than a thousand words. This is the case of these 30 shocking pictures that illustrate touching and often tragic moments in our history. You let you discover these extraordinary pictures.
1. A hungry little boy gives his hand to a missionary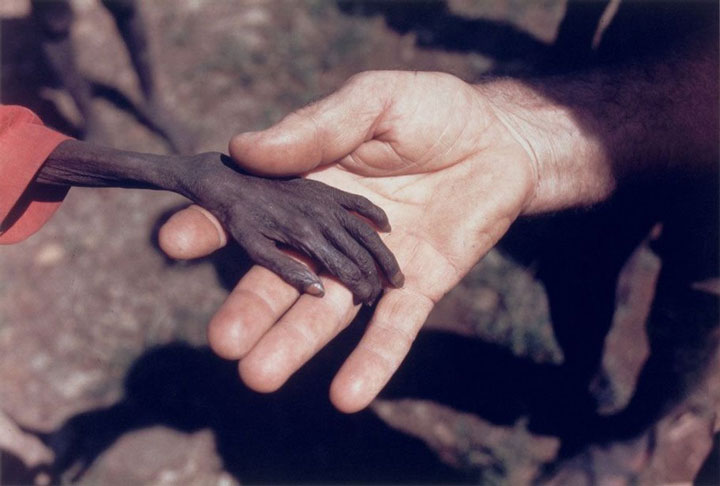 via Mike Wells
2. The inside of a gas chamber of Auschwitz concentration camp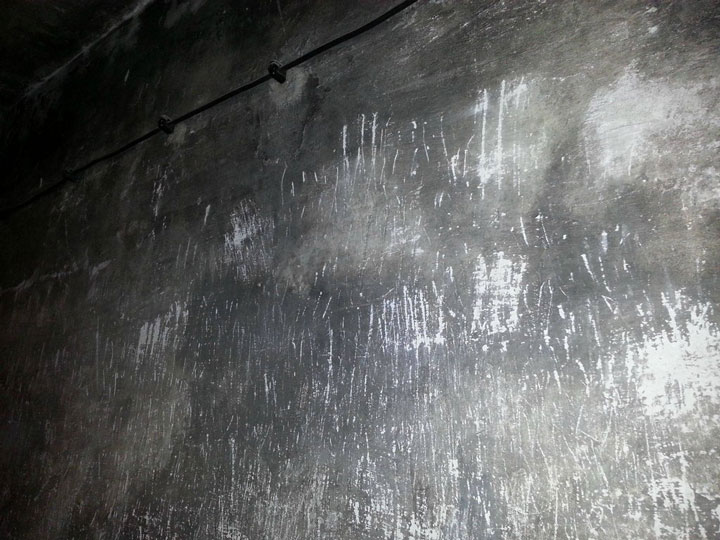 via kligon5
3. A surgeon and his assistant are exhausted after a successful heart transplant operation that lasted 23 hours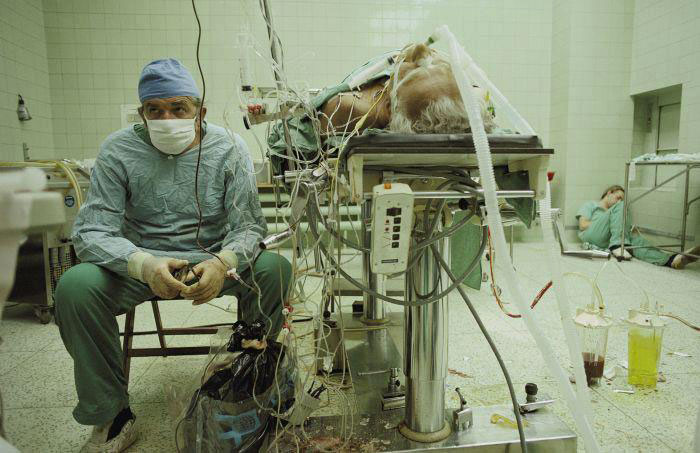 via James Stanfield
4. Diego Frazão Torquato, crying, playing the violin at the funeral of his teacher who helped him out of poverty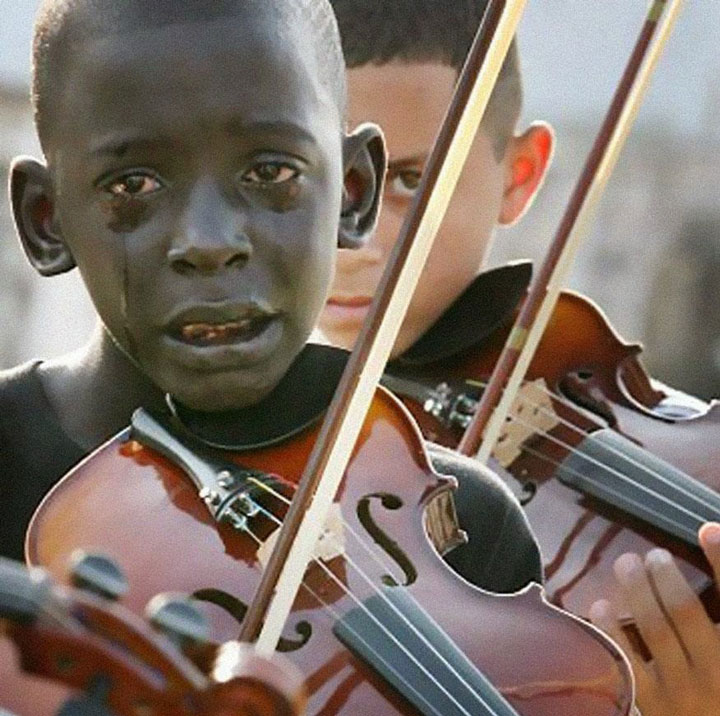 via blogspot
5. A young man who has just learned the murder of his brother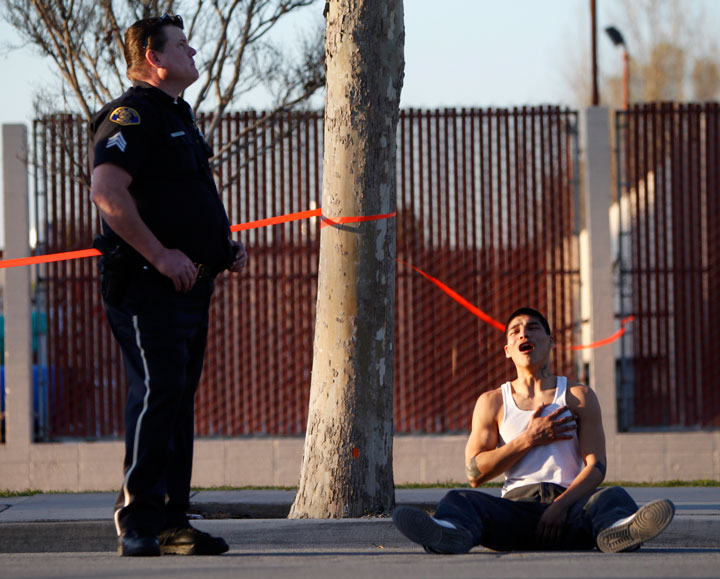 via Nhat V. Meyer
6. A protester shot at point blank range in Rio de Janeiro, Brazil.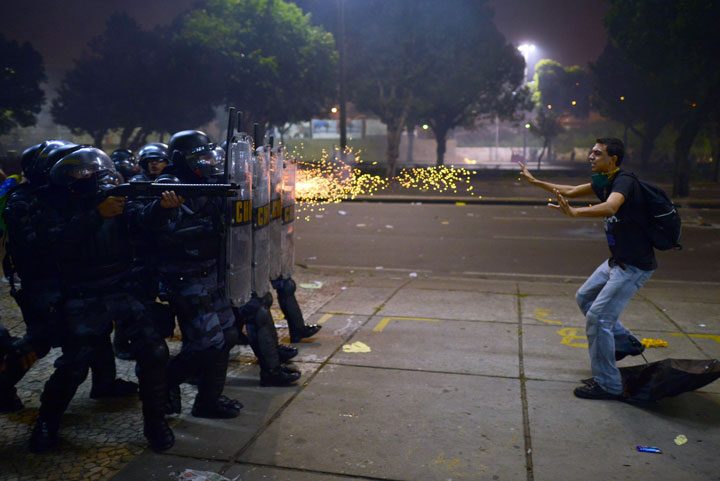 via gpb
7. Homeless waiting to receive free food outside a mosque in New Delhi, India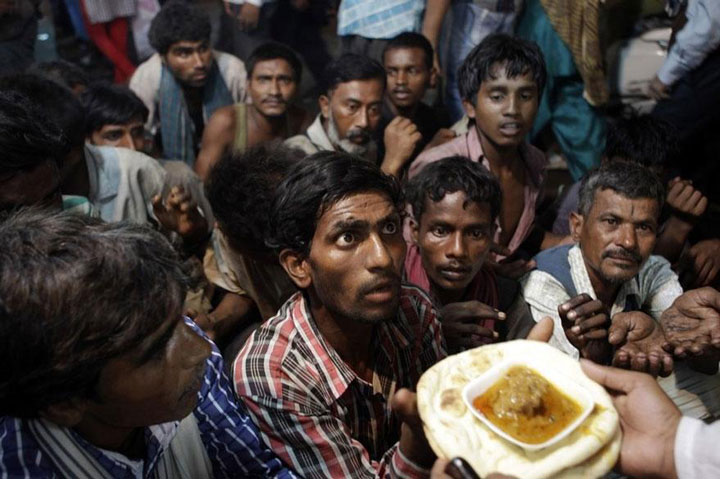 via Tsering Topgyal / AP
8. The majestic funeral of Zanjeer, a dog who saved thousands of lives during the 1993 explosions in Mumbai, India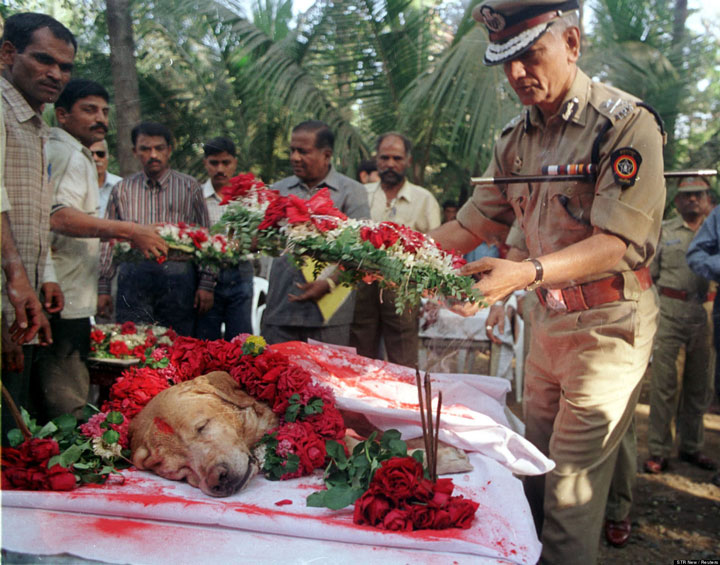 via Reuters
9. An alcoholic father and his son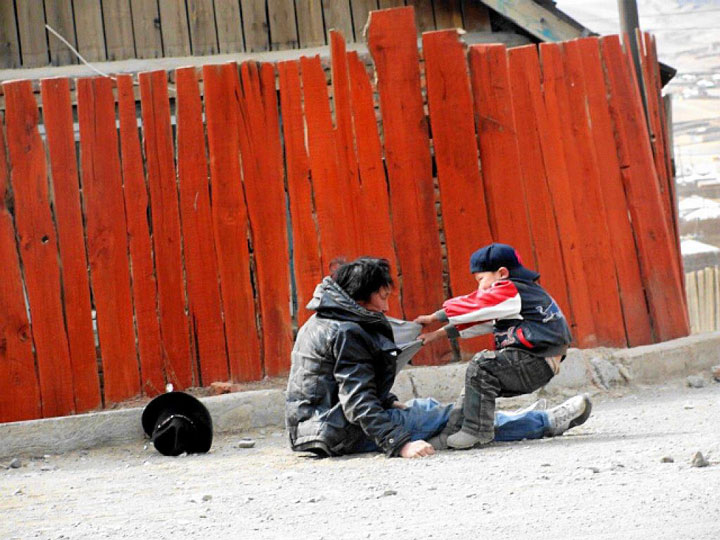 via imgur
10. A couple hugging until their last breath. They were found dead in the rubble after the collapse of a factory.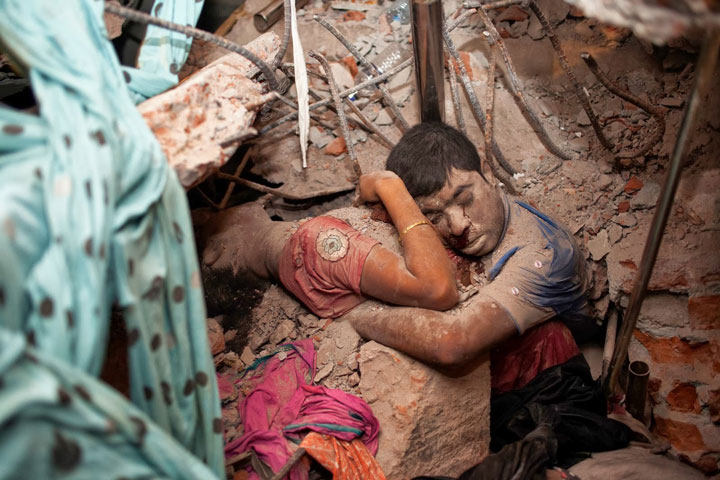 via Taslima Akhter
11. A gypsy boy smoking a cigarette in 2006 in the Saint Jacques in Perpignan, France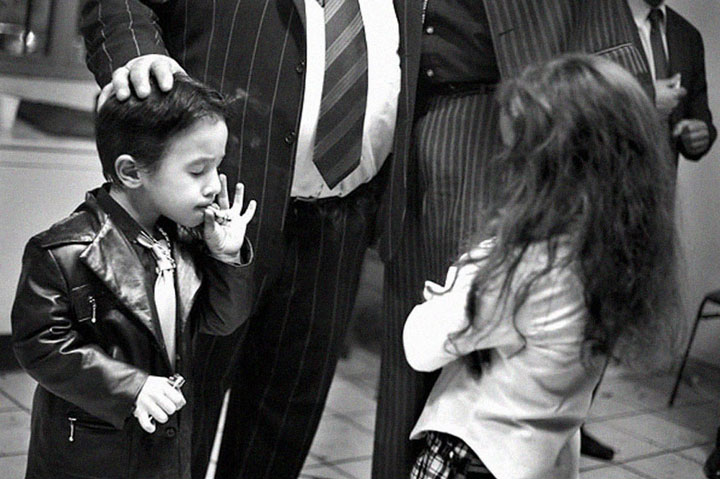 via Jesco Denzel
12. The Hhaing Yu holding weeping at his destroyed house after Cyclone Nargis in May 2008 (Burma)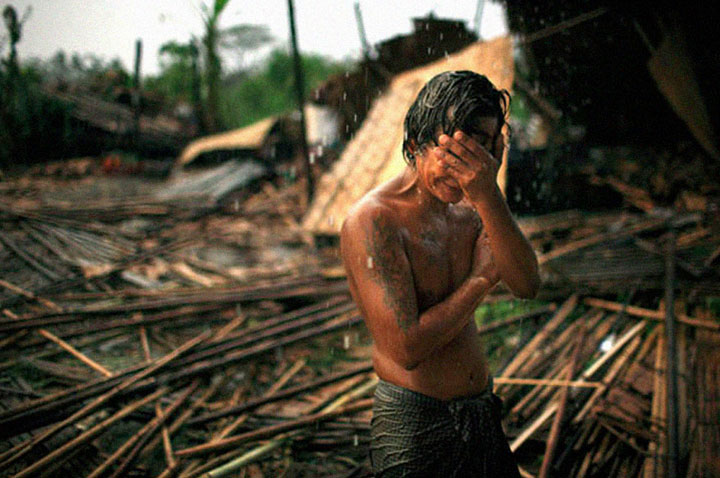 via Brian Sokol
13. A former Russian tank soldier finding the Tank used by him during the Second World War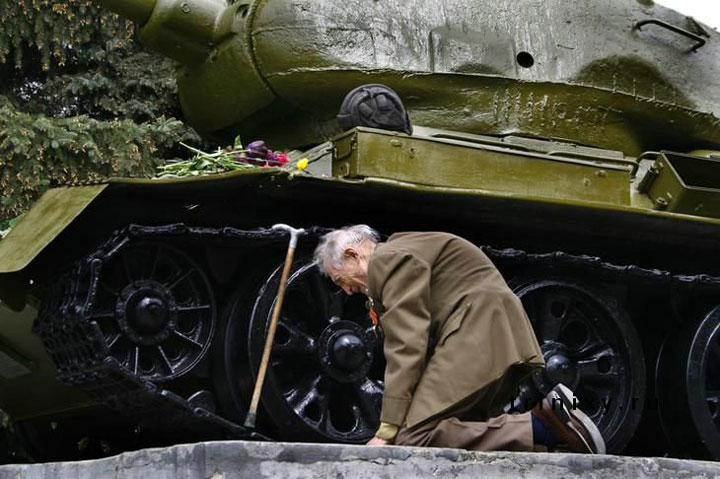 via englishrussia
14. A protester placing flowers in the gun of a soldier. This photo was taken on Oct. 21, 1967 during a march to the Pentagon.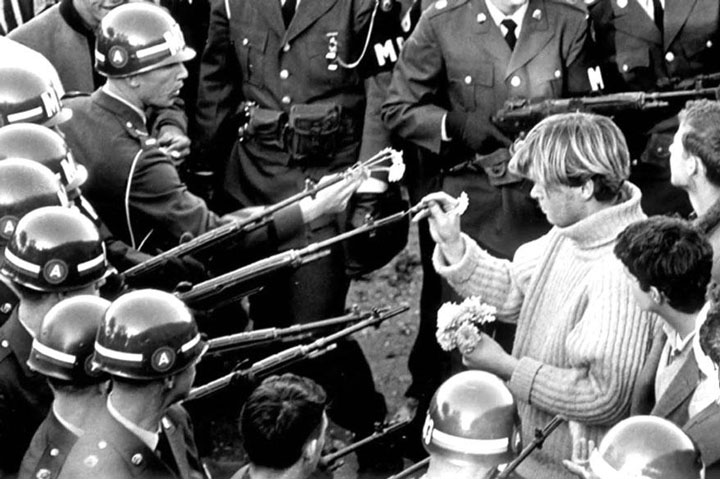 via Bernie Boston
15. Robert Peraza kisses his son's name on the memorial dedicated to the victims of the September 11 attacks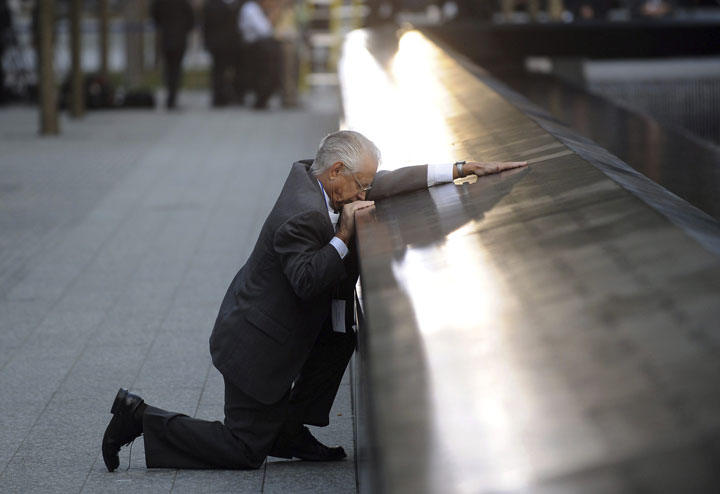 via diretodeny
16. Russian soldiers preparing for the battle of Kursk in July 1943 (photo created in 2006 from archives)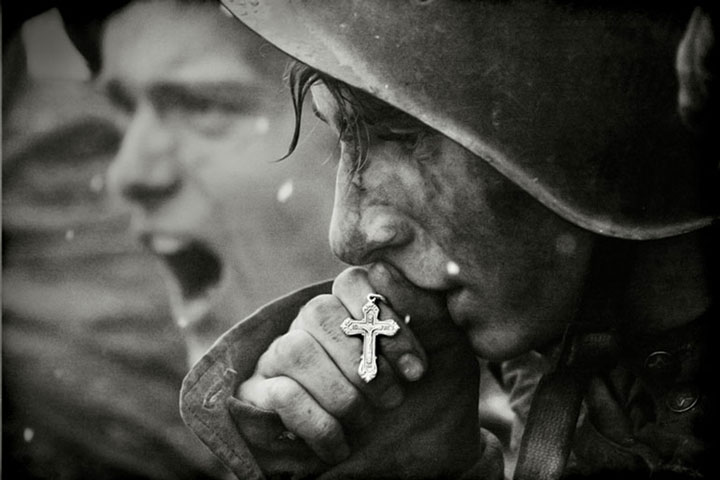 via Shirak Karapetyan-Milshtein
17. Afghan offering tea to American soldiers fighting on the ground of his ancestors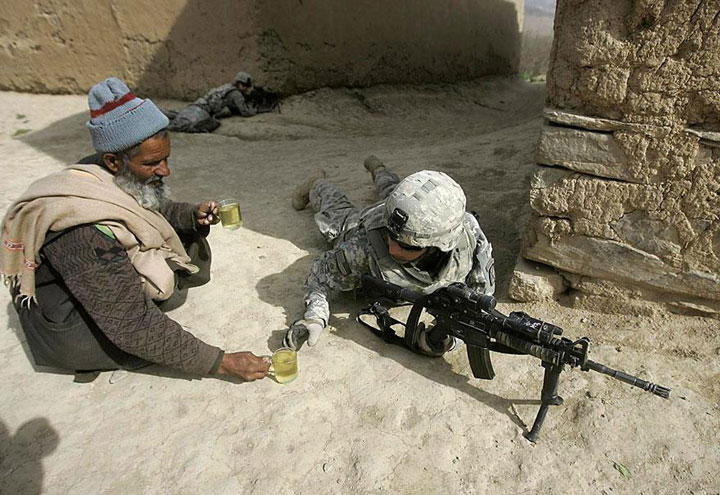 via Rafiq Maqbool / AP
18. Jewish prisoners released from a "death train" on the way to a concentration camp in 1945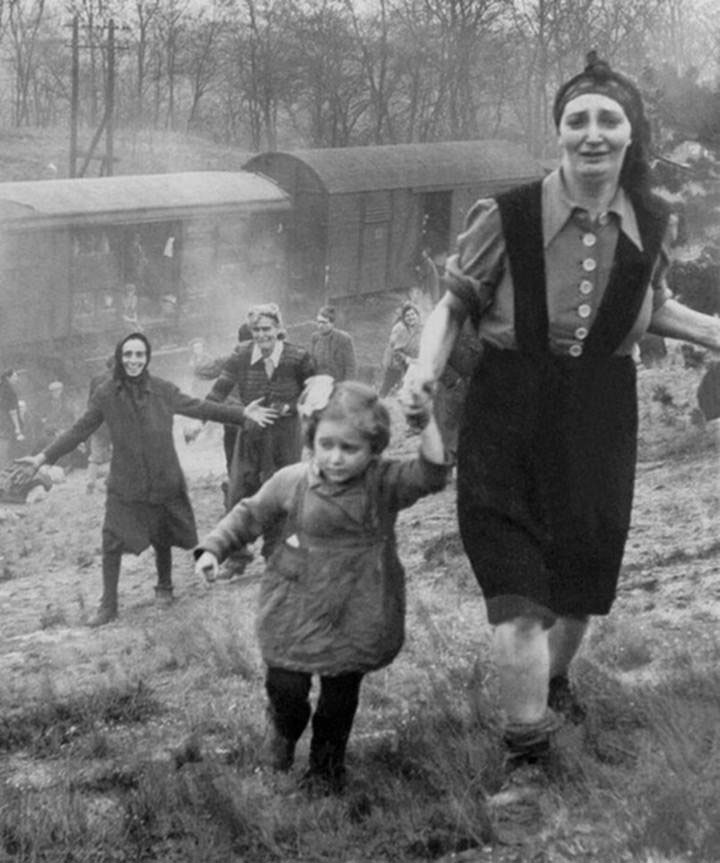 via hfcsd
19. A French civilian weeping in despair when the Nazis took control of Paris during the Second World War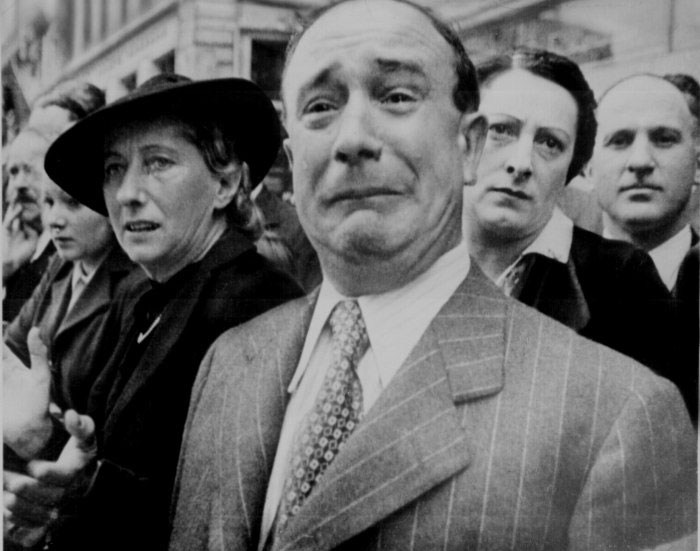 via iconicphotos
20. POW Horace Greasley gazes at Heinrich Himmler during the inspection of the camp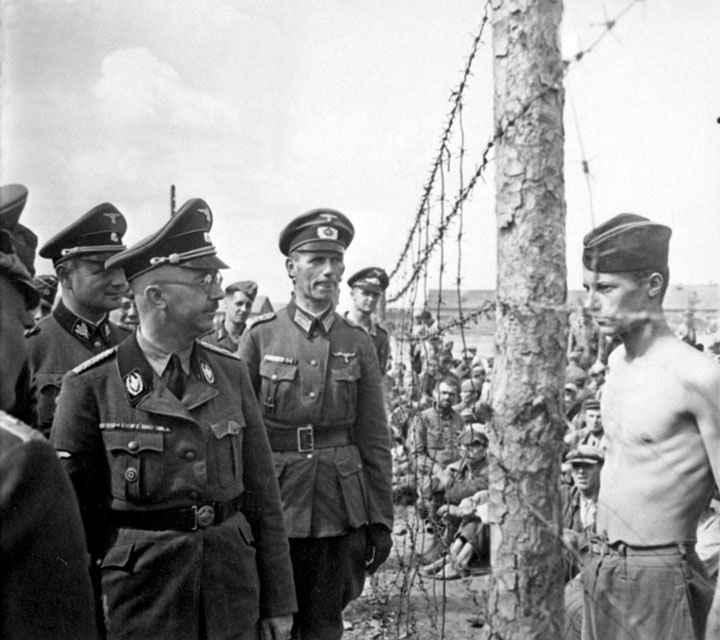 via telegraph.co.uk
21. A man carries a child away from the site of a bomb attack in Pakistan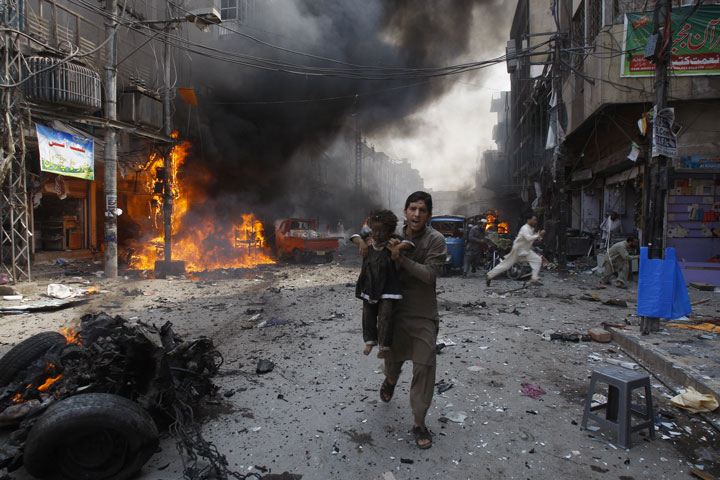 via indyposted
22. A woman keeps a military bulldozer from rolling over an injured man in Cairo, Egypt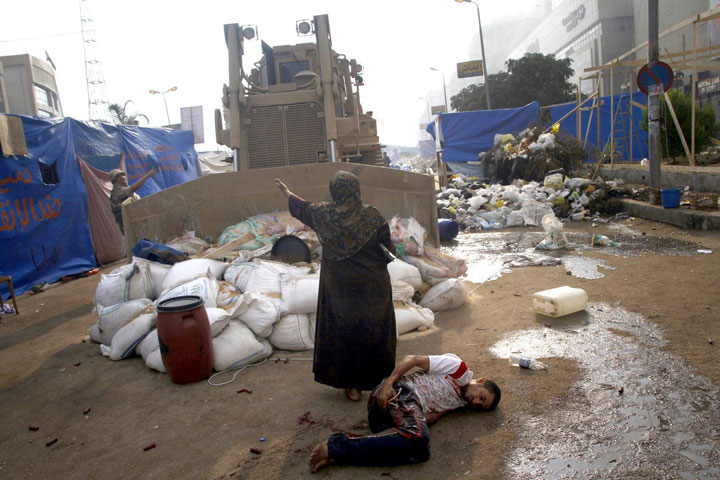 via abc
23. An anti-government protest offers a rose to a soldier in Bangkok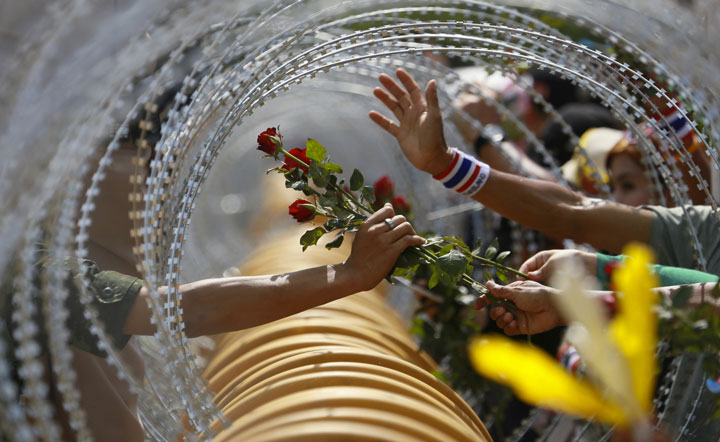 via startribune
24. A German prisoner of World War II meets his daughter. The child had not seen his father since the age of one year.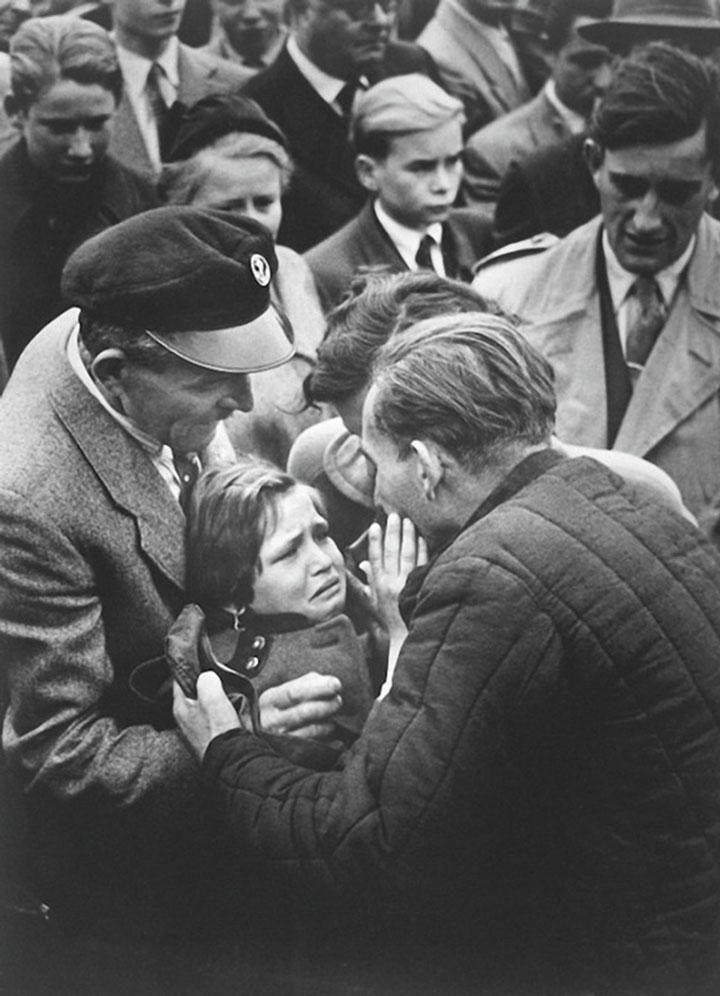 via om911
25. A woman being treated with radiations looks at her dog through a window in Nihonmatsu in Japan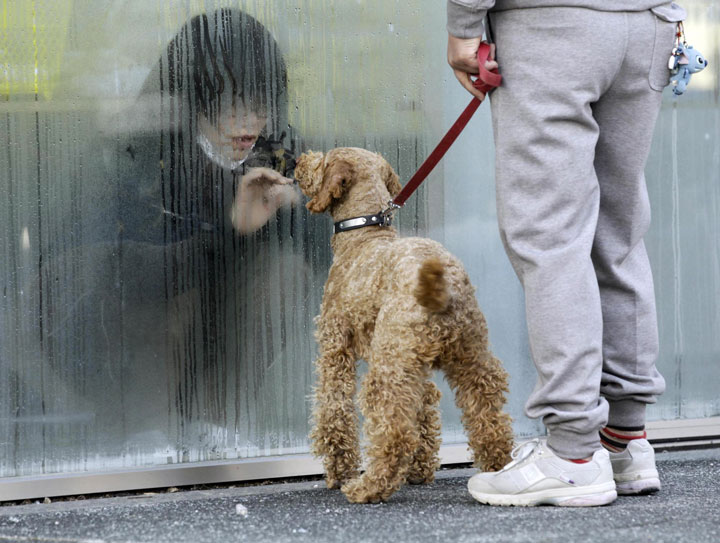 via  imgsou
26. The priest Luis Padillo made a final prayer for a man wounded by gunfire from a sniper fire in Venezuela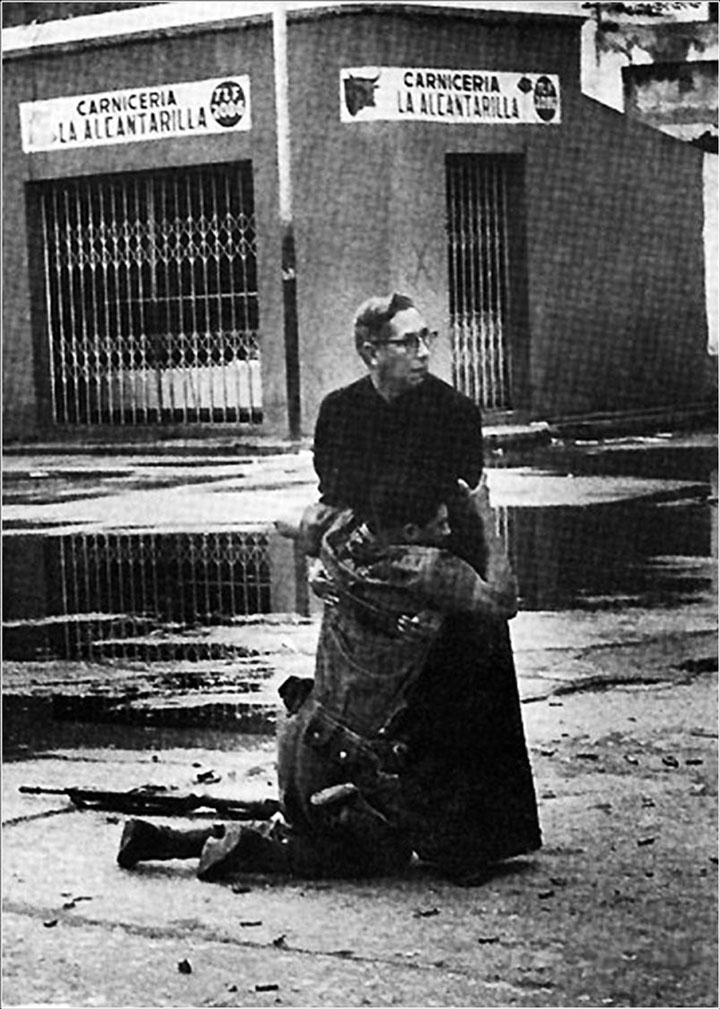 via  ilcapomaeda
27. Sisters posing for the same picture at three different times in their lives. On the last one, the third sister was no longer part of this world. 

via copypaste
28. John F. Kennedy Jr. salutes his father's coffin during an honor guard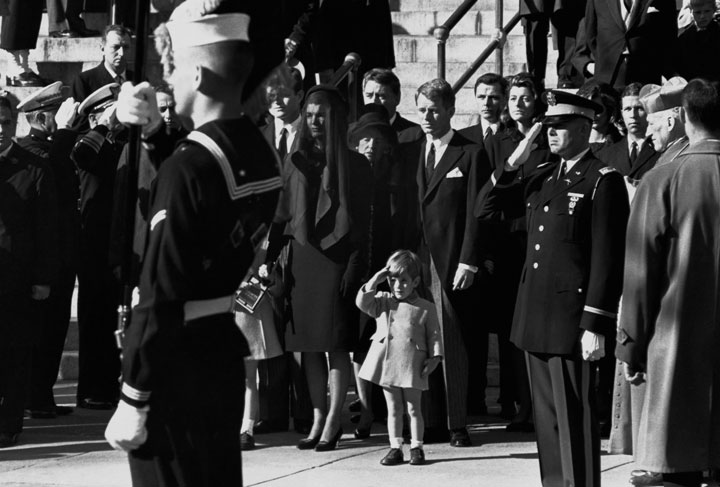 via  vidaytiemposdeljuezroybean
29. A monk prays for a man died suddenly while waiting for a train to Taiyuan Shanxi China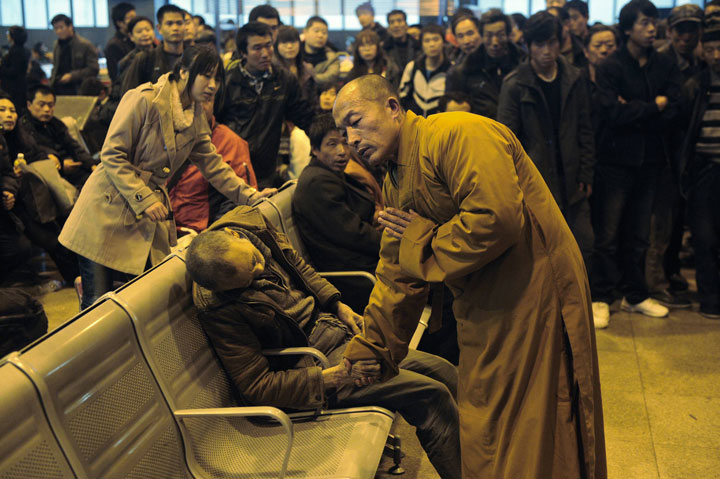 via mamaclub
30. Christian Golczynski, 8 years old, accepts the American flag handed over to him in honor of his father, Sergeant Marc Golczynski. The latter was killed while on patrol during his second duty in Iraq only weeks before his return home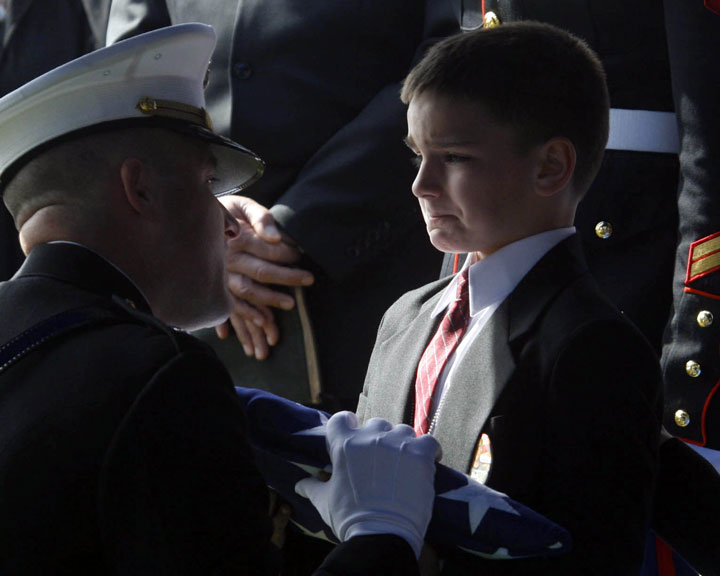 via nmaw
This series of photographs offers a moving retrospective of modern history. The photographs of these starving African children moved us a lot. Which one of these pictures did you find most touching? If you liked this post may be you would also like 19 Emotional Charged Photographs That Prove That Humanity Is Not Yet Lost.