Sleeping well affects your mental and physical well-being and is related to a lot of factors, including the room environment (light, noise, temperature, etc.), medical conditions, and many more. Try and fall short of sleep, and it may take a high toll on your energy and productivity the very next day. This is not it. It may also affect your emotional balance.
Getting a good night's sleep may seem quite an impossible task, especially if you are up until 3 AM, but you have more control over your sleep than you even realize.
Well, talking about taking control of your sleep, there is one crucial factor that you must consider, and that is your mattress.
What may seem like a soft cloud to you might be a source of back pain for another. So, it is essential to understand that mattress preferences differ from person to person. Now when it comes to choosing the right mattress, one thing that makes it difficult to decide which one to go for is the sheer range of options available.
Well, if you are looking forward to buying a new mattress and confused about which one to buy, then need not fret.
Here, you will get to know a few tips which will help you in choosing the right mattress irrespective of the wide variety of options available. Thus, making the whole process of buying easy.
So, let's roll.

# Try Before you Buy
Take the mattress for a test drive! Sounds crazy, doesn't it?
By taking a test drive, I simply mean to lie down on it and give it a try before you seal the deal. Perform some activities on the mattress such as stretch out on it, twist and toss and curl up your favorite position, sit up as in a reading position, sit on the edge, and posture back to determine its firmness, etc.
This is awkward, but ideally, it's the most efficient way to make a choice of selecting the perfect one to have a good sleep. It's generally said that you should spend at least 10 minutes trying out the mattress you are considering for your next buy.
# Know the Size
Before you leave to check out some mattress pieces for your bed, you must know the size dimensions of the same, which would perfectly fit onto your bed without any trouble. As you have different bed sizes, surely you have analogous sizes of mattresses as well.
Take a look at the standard size dimensions (in inches) of varied bed sizes:
King Size Bed: 76 x 80
California King Size Bed: 72 x 84
Queen Size Bed: 60 x 80
Full Size: 53 x 75
Full Size XL: 53 x 80
Twin Size: 38 x 75
Twin Size XL: 38 x 80
Thus, knowing about your bed size measures would certainly help you get the desired outcomes for buying a mattress.
If you have surfed the internet and were unable to end your search of an ideal bed with a perfect mattress, consider renting it online which gives the full description of the product along with their customer reviews. Checkout bed on rent in Gurgaon, Mumbai, Bangalore, or any other metro city where you get quick service and easy delivery of your buy.
# Check for Firmness along with Comfort
Coming on to this aspect, now one would realize why it's crucial to actually try a mattress before you make its purchase. Manufacturers don't follow a measurement while designing and developing a mattress, which can be directly or indirectly proportional to its firmness.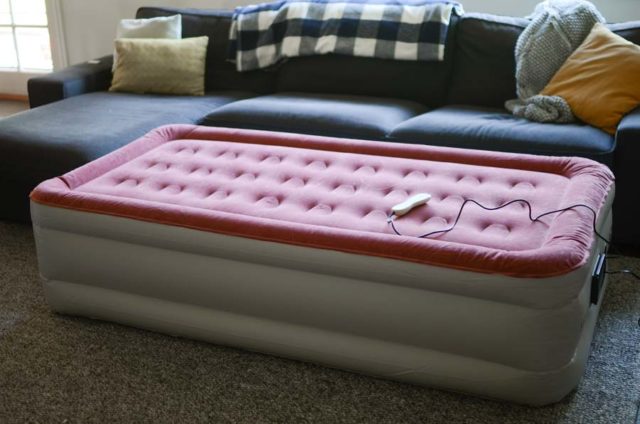 If for some, they categorize it as 'firm', the same could be another maker's 'extra firm', thus there is no standardization which could be used as an absolute to decide a mattress's description.
The feel and firmness, undoubtedly, depends on how you define a mattress like whether its soft, medium, hard, or firm. Moreover, your body type, size, weight, all these have a roleplay to describe what suits you better and is feasible in terms of comfort and firmness.
A combination of comfort and mattress strength one must go for picking up a mattress that provides the desired support that aids your spine to maintain its adequate alignment without creating any pressure or pain.
Presently, companies tend to build mattresses that aim to offer universal comfort for all types of sleepers, whether heavy, light, short, side, back, stomach, etc. where the inside filling of foam helps to maintain the right posture, supporting the back.

# Get Familiar with the Options
There are distinct categories of mattresses available in the market which possess different traits built to serve different purposes. Each has its own merits and demerits before you make headway towards the furniture store.
Let's dig into the available mattress's types:
Memory Foam: such a mattress type is known to offer a cushioning experience for aching joints and muscles as foam helps to maintain the body structure. They are a bit expensive in comparison to others and are not romance-friendly.
Innerspring Mattress: these are the common and typical ones that provide good support and firmness and are romance-friendly too, but apart from these great features, these mattresses take a back seat in case of durability.
Hybrid mattress: combining the above two categories end up making a hybrid mattress that has springs with a foam overlay. You get the option of foams in this type; one can go for choosing memory foam or latex foam.
Air Mattress: are designed to be user-friendly where they can be customized in a way you like. Sleeping partners can tailor their respective half of the bed as per their preferences, which comes at additional cost.
#Save on the Foundation
You don't necessarily need a foundation in case you own a platform bed. But, if you do not have a bed frame and you do not like to set your mattress on the floor, then you might need a foundation.
Well, there is no need to spend your hard-earned money on buying a new foundation if your old one is in good condition and if the mattress you are buying is of the same size. If there is no way out and you have to get a new foundation, then you may consider purchasing a lower-priced substitute.
# Get Aware of the Return Policies and Trial Periods
On the spot trial of a mattress can't give you accuracy over its usage, durability, and comfort unless tried appropriately an entire night or week or even a month. Yes, some dealers offer a comfort trial period, which lasts approx. for 30 days wherein you can make a return if it doesn't come up to your expectations.
You might be charged a small amount for performing this exercise with the applied terms and conditions; nevertheless, it is a good practice not to compromise over your health, especially when you already suffer from sore joint and back pains.
Moreover, you must not forget to take along the warranty card, if you decide to buy the mattress which suits you the best either in one-go or after taking its trial.
The Last Say
A new mattress is a significant purchase and must not be overlooked by ignoring its value and impact that it puts on one's health and sleep.
A comfortable and soothing mattress not only promotes sound sleep but also favors you when you are awake and helps you perform the daily chores in a better way.
So, make a wise decision to buy an ideal mattress for your bed and avoid heading to the local mattress stores or online sites without getting acquainted with the necessary information.
I hope the above-mentioned tips help you in influencing your decision, thereby, getting you the right one to be placed over your bed. We always welcome suggestions from the audience, so feel free to add comments in the comment box, delivering valuable feed.