Designing T shirts is one of the most popular mediums for creative people. And whether you are a graphic artist, illustrator, typographer, or a hobbyist, placing the design on the fabric can be very appealing even if the task can be pretty daunting for most of the time.
Learn more as we are going to provide some tips for creating awesome T shirt printing designs and create a masterpiece that people will notice immediately.
1. Creative Concept Takes Time
Exploring your design concept should involve careful thinking. So try to make sketches as much as possible of what you want to print. If possible, walk outside, eat something, sleep on it, and then repeat.
The point here is you are taking time to think about the design until it comes out naturally on your head in order to print out something that will be appreciated by many. Check out this T-Shirt design app if you're looking for a tool that can help you create awesome designs for free.
2. Visualize The Finished Product
Most experts in the field of T shirt printing know the huge difference between the design on the screen and the finished product. So don't hesitate to create a mock-up of your design to have a better idea of what will come out after printing. You can also try printing a small version of your design to sample shirts just to make sure your design concept will look as beautiful in actual size.
3. Intricacy May Be King, But Simplicity Is Still The Key
Everyone loves detailed illustrations, especially when it's placed in front of a T shirt. But the thing is, it can also lead to distraction.
So we recommend you stick with simple designs if you want to send your message across clearly. And don't try to create something in the middle as this will cause you to struggle in conveying the message behind your design.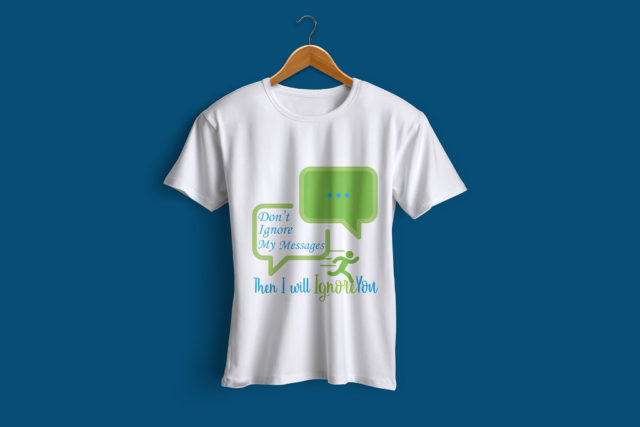 4. Keep A Subtle Tone On Humorous Elements
Injecting humor in the design may be the easiest way to get noticed by others, but it's also a path for your print to be considered as something cheap. So if you don't want your T shirt design to be regarded as a joke then try to keep the humorous elements to the minimum.
Even the most successful loud and extremely colorful designs follow this unwritten rule to maintain a good balance between the comicality and the seriousness of the message you want to express to onlookers.
5. Consider Your Market
And finally, creating an awesome T shirt printing design also involves considering the market you are targeting with your creation. To be specific, try to figure out if you are designing for men or women, young or old, and etc.
We recommend you write down the kind of person you want to get interested in your design, specifically who they are, what are their hobbies and interests, their fashion preference, and the likes.
This way, you'll be able to create something that specially made for the people or age group that you want to wear your shirt.
If you're looking for high-quality custom t shirts in Australia, visit The Print Bar's website and check out their latest offerings.