We predict that this unique Micro-UAV by CyPhy Works will soon be famous. Its performances is just amazing when compared to its tiny size. The American manufacturer hopes that it will be used by the special forces units in their missions.
6 propellers. 80 grams and 2 hours of autonomy,  you will indeed be impressed by this pocket drone which is still in its prototype stage. Furthermore, it can fly and transmit high-resolution video for nearly two hours. The secret behind this: It is connected by a cable, allowing it to transmit video streams and charge its batteries.
This drone is the hallmark product of this American company which is founded by Helen Greiner who is also co-founder of the brand iRobot. The drone is connected to the ground station, by a micro cable, containing batteries or plugged in to a socket. This indefinitely extends the flight time as well as the camera operation.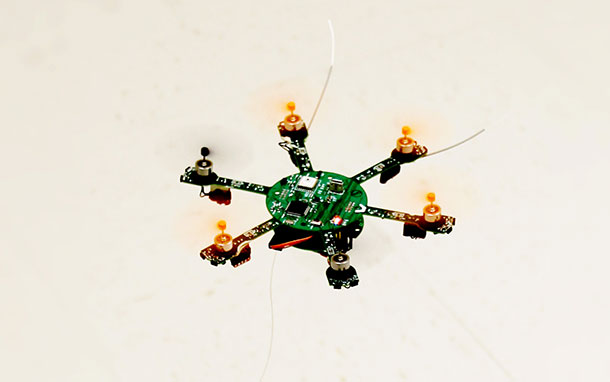 In addition to extending the action time of the drone, the camera provides HD video quality with no lag and no waiting time. Whatever the obstacles between the drone and its driver, it will never lose communication with the device. In addition to that, these communications can never be hacked by a hacker because nothing is transmitted on waves.
The cable is wound in a coil embedded in hexacopter and which unfurls as the latter moves. The cable measures a total of 76 meters long, which is enough to carry out close quarter reconnaissance and monitoring missions, for which this drone has been designed.
On the ground, military men need these ever more technical products, but still they must be convenient to carry and easy to use. Being pocket sized, micro drone Pocket Flyer, can be deployed quickly, anywhere and at any time of a mission.

Here's what the complete package is made of: a ground controlling station, a battery, and the filming drone, that's all. The pilot controls the drone using an app installed on a touchscreen of smartphone or tablet. Once the mission is complete, the soldier can replace the cable with a a new coil bundle and recharge the battery if necessary and the drone is ready to launch again.
CyPhy Works has started production phase of the device through a grant from the US Air Force.