Simin Qiu, a young art student, has created an amazing tap! The water that flows out of the tap is formed into thin swirls and transforms the tap into a true work of art. But this tap does not only has a beautiful design but also reduces water consumption by almost 15%. We tells you more about this ecologically elegant invention.
Simin Qiu is a design student at the  Royal College of Art in London. He had this idea of designing a tap that is both artistic and ecological. In other words, he wants to combine stylish design with significant water savings. The invention of Simin is a valve that flows the water in most beautiful way. Indeed, these thin intersecting water threads look unmistakably like a real work of art. Whirlpools that make heads turn and fascinate us to the point that it won iF Design Award.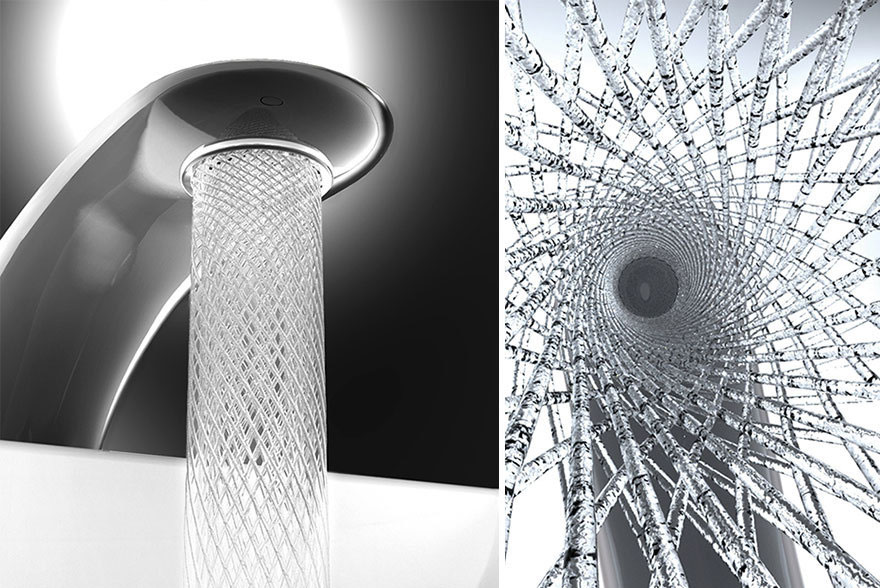 The working principle of  Qiu's invention is quite simple. There are 3 different nozzle heads, to allow the users to choose which piece of art they want to flow from the tap. So, you have a choice of whirlpools. To keep a clean design, the young designer has added a touch button on the top of his creation so that the user can manage himself the power of the water jet.
Moreover, in addition to its revolutionary aesthetics, this valve would reduce water consumption by 15%. Indeed, the tap is quite simple and elegant. The young designer explains: "All forms of life depend on water. (…) This is the most important resource in the world. To me, the water is soft and swirling. These two elements have inspired me in my work." So, we understand how he came with this amazing idea!
This valve is revolutionary! Elegant, artistic and ecological, this creation is very promising. We are all fascinated by this incredible water flow. It is hoped that it will hold its promise and that we will soon equip our homes with this type of invention. Would you like to install this tap at home?