TechMaster Event is a project that aims to bring together innovators from all over the world. Its website is a place where you can publish your own technological ideas and participate in numerous competitions with attractive prizes. Apart from that, it will grant you several other benefits so do not falter and act quickly.
Tech Master Event values all ideas and signs of engagement. Don't worry about your origin nor funds. All participants are welcome and the most substantial qualities are creativity and persistency. It can be considered as a huge opportunity as well. With every project uploaded, your credentials, image and popularity will grow. Thanks to the versatility of the Event, you will be also able to get in touch with other technicians and specialists in the fields of technology, electronics, mechatronics, robotics and programming. Share your knowledge and experience and expand your horizons. By putting your work onto the website, you'll get to know a great number of young people with similar interests and in addition, you'll become a desirable person on the job market, more recognizable to your potential employer.
Tech Master Event offers not only interesting and valuable prizes but also a wide spectrum of opportunities. It encourages young and aspiring creators to follow their dreams and reach their goals. With its worldwide range and global inclusion, it will provide every involved member with a welcome space for his pieces of work there. Regularly organized competitions will ensure constant movement in the sphere of technology and electronics and will allow you to constantly meet new people.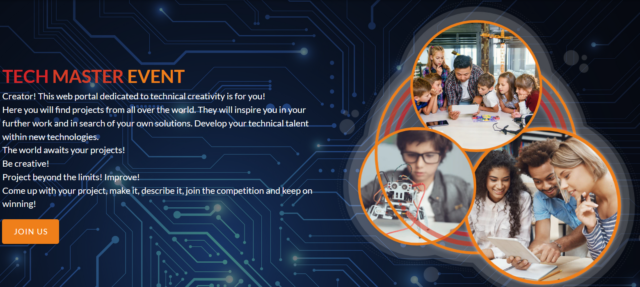 The website is a perfect place for solely learning too. The accurately sorted categories allow you to see other people's concepts. Their articles can serve you as guidance and inspiration to venture and undertake your own ideas and make them real. Do not fear and use the possibility of exchanging your views with the ingenious community.
In a nutshell, Tech Master Event is an including a place for every aspiring innovator that wants to chase his dreams. It appreciates inventors and visionaries. It appreciates you.