In the last decade, social media has evolved from being a platform to connect with friends to becoming a way of living life. With people of all age groups taking to social media, brands are switching to social media marketing to bring their products or services to the notice of their potential customers.
What is Social Media Marketing?
As a brand, your constant pursuit would be to increase the awareness of your products or service and have more people purchase from you. The use of different social media channels such as Facebook, Instagram, LinkedIn, Pinterest, and others to achieve this goal is known as social marketing. Parameters such as driving higher traffic to the product's website, gaining social media followers, number of views or likes on a post, etc. are some of the most important KPIs of social media marketing.
How to Begin Your Social Media Marketing Journey?
If you are a brand looking to take baby steps in the world of social media marketing, here is a detailed guide to walk you through the basics.
1. Optimize your Social Media Page
As a brand, you may be setting up a social media page primarily to share Video ads about the products or services you offer. To ensure that such ads get the reach they deserve, you need to optimize your social media page.
Begin by uploading a real picture as the DP. This should ideally be your brand logo (if you have it) or a photo of yourself where the face is visible. In the description section of your page, talk about the background and expertise of the firm.
It is a good idea to indicate the type of content you wish to share in the future and who it will be aimed for in the profile description itself. Depending on whether you are using Facebook, Pinterest, Instagram, add the link to your website in the About Section, Website Section, or bio of your profile.
2. Introduce Social Media Buttons on Your Website
When you are sharing informative content with your website visitors, they would want to share it with their peers. Encourage them to do all such shares through social media. That way, when person A shares your post with person B, social media followers of both A and B get to know of it, and that increases your reach.
An effective way of encouraging social media shares is by having social media icons on your website, clicking on which will lead viewers to share the post. Having large icons will make them more noticeable and increase your chances of exposure. Depending on the social media platform in question, there are several plugins that you can use to incorporate social media icons on your website.
3. Do Not Send Out Random Requests
It is after beginners use the YouTube video editor and come up with picture-perfect videos, do most brands make the mistake of sending out follow-requests to just anyone and everyone. Newbie business profiles do this in a bid to get people to notice their perfect video and follow the profile.
Social media platforms like Pinterest and Twitter use the followers: following ratio as one of the core factors in computing suggestions for 'Who to Follow'. If a business profile's ratio is very high at this point, the chances of getting new quality followers are bleak. A potential customer is more likely to trust a 500-follower profile that has 480 following rather than one that has 900 followings.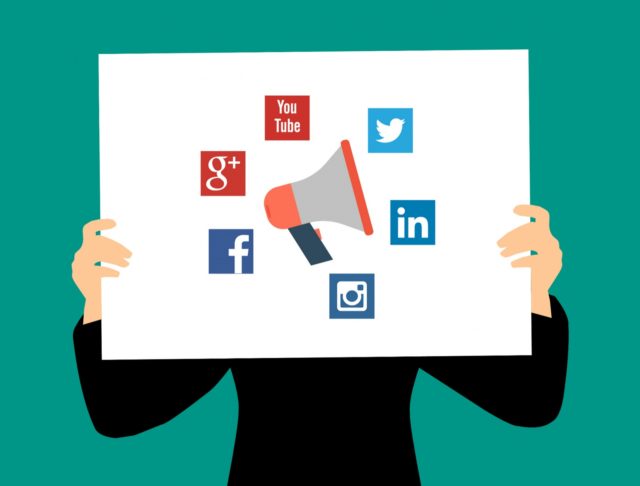 4. Identify Industry-Relevant Followers in Instagram and Send Follow Requests
Influencers have millions of followers, and if you are active on an industry-relevant influencer's posts, you will grab the attention of people who might like your product. Moreover, observing how the influencer brands himself and uses the Instagram video editor to come up with compelling videos will tell you a lot about social media marketing.
Often, such people share interesting information about the niche with their followers and you might find such posts helpful. However, it is important to set your expectations straight as you cannot hope for the influencer to follow you back.
5. Learn the Rules of Social Media and Stick to It
Different social media platforms have their own guidelines. As a brand venturing into social media marketing, take special care to ensure that you abide by the rules of the platform in question.
For example, Twitter has a restriction on the number of profiles you can follow in a day, and trying to cross this would send off red flags, establishing your business profile as a spammer. Taking shortcuts to success (in the form of buying 'likes' or 'followers') will only increase the chances of your profile getting suspended and take a toll on your brand image.
The key to success in social media marketing lies in being patient and avoiding rushing the results. With regular host posts, it may take you some time to have millions of followers. But the wait will be worth the effort as the followers you will get will be ones who are genuinely interested in what you have to offer.
Marketing is all about bringing the key features of a product or service to the notice of potential customers so that they feel tempted to make a purchase. A dynamic field, marketing has always been about giving people what they would like.
Billboards, a classical marketing technique, came to the picture because brands realized that people are spending a good number of hours on the road. On a similar note, with the average public spending an increasing number of hours on social media, it is now an emerging trend for brands to market online.
A word about a product or service spreads like wildfire and purchases by their peers encourage people to do the same. Brands are also able to give a human face to themselves and communicate with their clients more effectively. In such a situation, the sooner you begin on your social media marketing journey, the better it is for your brand.