The United States Agency for defence research projects, DARPA, has awarded a grant of $ 2.9 million to the Wyss Institute at Harvard for the development of a fabric exoskeleton.
The Wyss Institute, specializing in Bio-inspired Engineering at Harvard University, has been awarded a grant under the program Web Warrior to develop the combat uniform for future soldiers. Since the 60s, the United States Army has been using various types of exoskeletons like XOS2 Raytheon. However, with recent advances in terms of technology and textiles, DARPA wants to develop a more effective solution. In the Web Warrior program, the properties of this light weight fabric exoskeleton have been evaluated. In 2013, the Wyss Institute participated in the tender for providing a fabric exoskeleton, it is also called the Soft Exosuit that combines robotics and biomimetics with the sole aim to optimize the efforts of its user to minimize fatigue and injuries.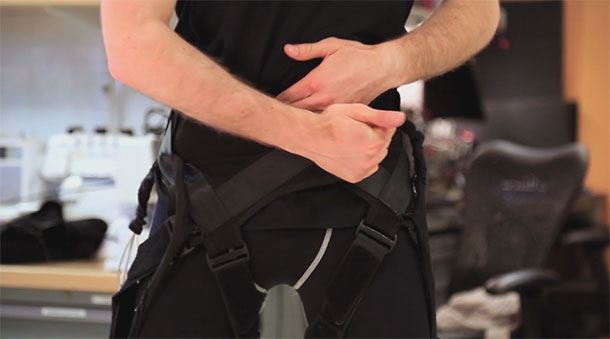 DARPA does not want to hear anymore about the exoskeletons made of carbon, or plastic or aluminum. As such type of device requires large amounts of energy and interferes with the natural movements of the wearer. Soft Exosuit is made ​​of new textile fibers, called intelligent fabric.  This textile will have flexible sensors and wires integrated into it that will mimick the functions of muscles and tendons to support the joint and limb movements. The soldier would then be able to travel very long distances in a natural way, without any embarrassment.
The current prototype uses a low-power microprocessor and an array of force sensors that act as the nervous system of the device. They continuously analyze the signals sent by the body position (sitting, standing, squatting) of the soldier and the pressure applied on the Exosuit.
In the first stage of the contract, the Wyss Institute will build a prototype as a proof of concept of the work it has previously done on the wearable robotic system. In the second stage, the team will focus on developing an intuitive operator interface, with the choice of textile, actuators and flexible sensors.
Before collecting all the money from DARPA ($ 2.9 million), the prototype must meet specific criteria as defined in the objectives of the project. If the project is completed, there is a good chance that the Soft Exosuit will be used in civil sector by the people with disabilities.