If you are a lover of Geography and often like to play games for testing your knowledge about Geography then Google's SmartyPins game is perfect for you. The game has been designed using the platform of Google Maps. You have a quota of 1000 miles to find the correct locations in response to the given questions.  You can play the game here.
When you start the game, you have two options: either you can choose random questions or you can choose questions from categories like Arts & Culture, Science & Geography, Sports & Games, Entertainment, and History & Current Events, according to your taste.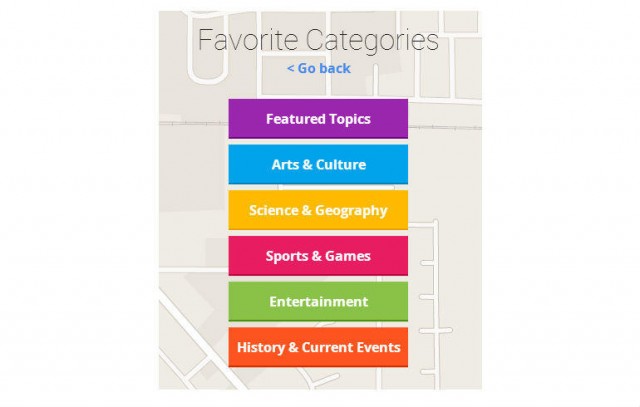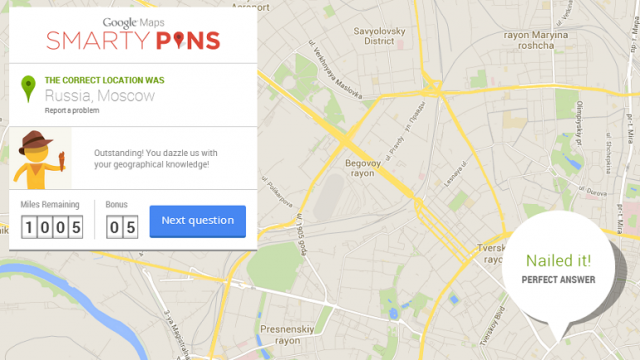 Now, the questions start one-by-one. First question will appear on the left hand side of the screen. In response to that question, you place the pin at the correct location on the map. For the smaller cities and places, you may have to zoom. Once the pin is placed, the name of the place will appear. Now, you can submit the answer. Still you can move the pin but bonus points are only awarded if you answer in the first 15 seconds.
During the course of the game it, if you keep on answering correctly, you will be awarded bonuses with diamond, gold, silver and  bronze pins. In case, you give wrong answer, the difference in miles between exact location and your answered location will be subtracted from your total 1000 mile quota. Once you run out of miles, the game ends. It is also possible to share your results with your friends on social media like Google+, Facebook, and Twitter. While the underlying concept of this game is simple, still it is possible to use this game to learn and have fun.