A team of researchers from the University of Washington has developped a prototype of gesture recognition system that enables you to control a smartphone without requiring to touch it. Called Sideswipe, it relies on the detection of the electromagnetic waves used for cellular communication and their interaction with human hand. Being simple in design, as well as, energy efficient, this system can easily be integrated into the terminals.
This technology enables you to silence your phone in the pocket or handbag, using a simple gesture and without even touching it. This technology has not yet been offered by any of the manufacturers. Yet it is technically feasible, as the work of a team of researchers from the University of Washington reveals. This technology is called Sideswipe .
It requires a fairly simple configuration based on antennas that detect the smartphone emitted GSM signal fluctuations, as the hand approaches it. An algorithm processes this information in order to recognize the gestures and take the associated actions. Sideswipe can be used to manage incoming calls or control certain functions without having to take the mobile in hand. "We do not use special transmitter or source externally. Our approach requires minimal changes at the mobile terminal that could be easily adopted by manufacturers " writes its creators in their scientific article. 
The hardware consists of four antennas that capture fluctuations in GSM signal all directions around the smartphone. When the user's hand approaches the phone, the signal is attenuated. These fluctuations are detected by the antennas while a GSM algorithm converts the signal into a continous wave signal, which is the basis for the gesture recognition.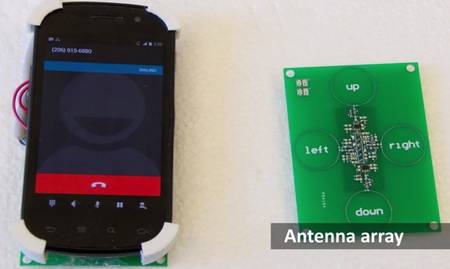 Configuration of Sideswipe begins with a learning phase during which the system records the gestures of the person. Currently, the app can recognize 14 gestures with a success rate of 87%. In their article, the researchers from the University of Washington suggest several usage scenarios. To manage incoming calls there are three options: change the phone to silent mode by moving the hand towards the device, or send a predefined response by SMS by moving the hand to the right, or reject a call by tapping the terminal. Sideswipe can also be used to navigate between different applications, scroll a page, or control the music player without the need to have the phone in your hand and under your eyes.