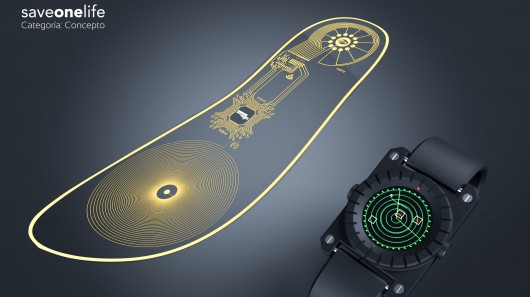 In warn torn zones, even after the seizures of hostilities, the already deployed landmines continue to threaten the people for a long time. The SaveOneLife project, designed by Lemur Design Studio, incorporates the mine detector in the shoes of people to protect them from getting killed or maimed by mines. 
There are about 3 million mines deployed worldwide. The normal lifespan of a mine is more than 50 years. Statistics indicate indicate that Afghanistan is the most mined country in the world and then its Colombia. Colombia has been a victim of rebel guerilla war. The rebels planted the mines everywhere, near houses, in fields and near schools.  So much so that these landmines have resulted in about 2000 killed and 8000 injured or maimed. The clearing of these mine requires skilled personnel and a fair amount of funding. Even then this task may take decades to complete.
Realizing this grave danger, Lemur studio based in Bogota, Colombia has tried to come up with an innovative solution to this problem. This wearable mine detector can easily be fitted in the insole of your shoes. The spiral coil in the insole acts as a metal detector by emitting an electromagnetic field. When shoe comes within 6.5 ft of the a metal, this electromagnetic field is disturbed. This disturbance is then detected by a microprocessor in the insole. Which transmits this information wirelessly to the human watch which warns of the impending danger by producing a  beep and displaying location of the mine.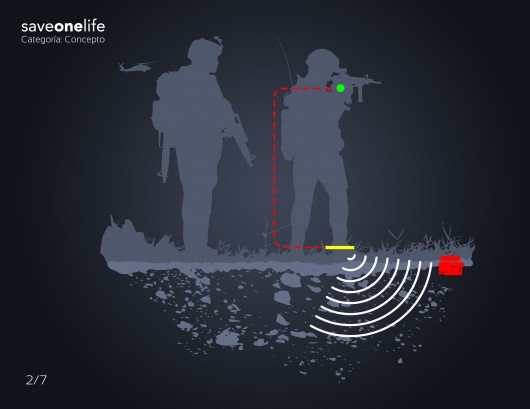 Despite of the fact that the project is only currently at a conceptual stage, we are really amazed by SaveOneLife project which has the potential to dramatically reduce the danger from antipersonnel mines. Do you think the threat of mines will be removed anytime soon from the world? You may also like to read: Landmine-detecting Husky Robot For Safe Minesweeping In War Torn Areas.