Inspired by the old Polaroid technology, Prynt is a case for smartphone with a built in printer that can print the captured photos in 30 seconds. Launched on the crowdfunding platform KickStarter, the project achieved its objective in only thirty minutes.
Smartphones are now being used, more and more, to take pictures. Many of these mobile have become high-performance cameras. But in the end, these hundreds of pictures stored in the phones are not or rarely consulted.
It is from this observation that Prynt, a start-up founded by six French, had the idea of this mini printer, or rather a case-printer. The concept is quite simple: the user slides his smartphone in Prynt (it connects to the micro-USB connector), it takes a picture conventionally which is then printed in 30 seconds. It is also possible to print any photograph in smartphone gallery but also from Facebook and Instagram.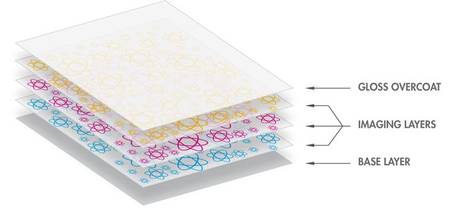 No ink cartridge in Prynt
Prynt is compatible with selected Android devices, the Galaxy S4 and S5 and the iPhone 5/5s, 5c and 6. The device  weighs 225 grams and  has its own battery for twenty prints.  These prints are without ink cartridge: everything is in the Zink paper .
This technology was developed by Zink Imaging that was launched in 2007 used a portable printer and special paper. The method is protected by more than 170 patents. The ink is included in the paper, in the form of crystals, installed on three separate layers, one per color (magenta, cyan and yellow). The printing is done by heating the crystals to reveal the image. The resolution of Prynt is 620 x 1120 pixels for an image size of 2 x 3 inches. According Zink, the ink is resistant to water and fingerprints.
Adapters for your new smarthpones
But what if we want to change the smartphone? Prynt had also thought about it and explains that the part of the case that serves as a docking station can be replaced to adapt to the new model. The sale of these adapters and consumable printing paper are obviously an important part of the economic model of the young company. A pack of 10 sheets of of photo printing paper will be sold for $5 and may be ordered directly from the Prynt app.
To finance their project, the French team has opened a fundraising campaign on the KickStarter. Launched on January 27 with a relatively modest goal of $ 50,000, the young enterprise reached its goal in just 33 minutes! At the time of this writing, the funding has exceeded 315,000 dollars.
Prynt is available on the Kickstarter for just 99 dollars and the eventual price will be between 130 and 150 dollars. Prynt will be available in August for Kickstarter donors and in October for the general public.