It is hard to believe but its true that a man named Amoo Hadji has not taken a bath for the last 60 years. If this fact is accepted by the Guinness book, it will surely be a world record. Amoo is aged 80 years and lives in a small town named Dezhgah, in the Dehram district of Fars province of Iran. The dirt deposited on his body for the past many years is easily distinguishable as scalps on his body. His most valuable possession is a pipe in which he smokes dried animal dung. He has dug for himself a grave like hole  for himself where he lies down and relaxes for hours. He lives in stony room which is built by his neighbours where he lives, his meals comes from dead animals that he eats.
These pictures of Amoo recently published by Iran News Agency (IRNA), makes us feel pity for man, nobody knows why he stopped bathing for the last 60 years of his life. He refuses to take bath, which has made him smell bad even at a large distance from him. When he feels cold he wears a helmet and smokes many cigarettes simultaneously. Its seems as if he is enjoying in his own world and having fun even without taking a bath.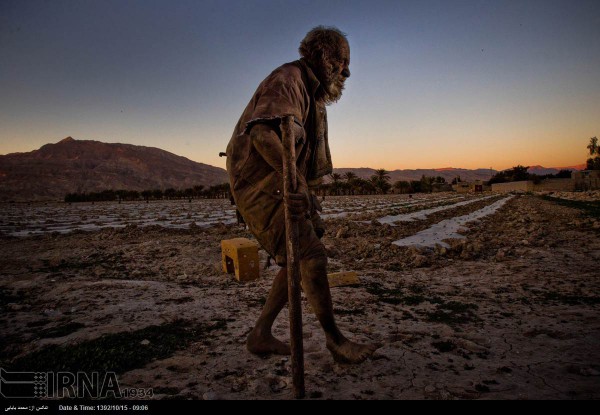 We are amazed and stunned by the story of this Iranian man. We cannot imagine that a man can live such an isolated life and be happy. What is your opinion about this old man?