By merging its Thunderbolt high speed data transfer technology with the new USB-C standard, Intel offers a versatile and powerful connector that might supplant the USB in all future electronic devices and simplify the life of users.
Same cable to connect and power the computers, smartphones, tablets, and other electronic devices. Would it be reasonable to believe that in the near future, that all the different type of periphery cables for our computers and laptops will be replaced by a single connector type? In any case, this is what has been promised by Intel with its new Thunderbolt 3 connector ​​that has been unveiled at Computex exhibition, being held in Taiwan.
The founder did not hesitate to speak of "nirvana computer port", boasting some of its very attractive features: a theoretical maximum data rate of 40 Gbps as compared to 20 Gbps of Thunderbolt 2, its ability to simultaneously connect two Ultra HD screens, to provide 10 Gigabit Ethernet connection and power devices by providing up to 100 watts.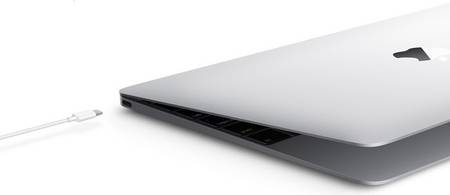 USB-C, one cable for everything
Earlier, Apple is one of the first manufacturers to adopt the USB-C for its new MacBook. The firm had made headlines by not only incorporating a USB-C port that is used for both the connection and the device power, but also further refining it into a more sound design
The big news is the adoption of USB-C connector for the Thunderbolt technology by Intel, instead of the mini DisplayPort which has been in use since the launch of Thunderbolt technology in 2011. The USB-C has the advantage of having the identical interface at the both ends of the cable. As the two ends are identical, you do not have to worry about the direction in which the cable has been plugged.
USB-C has an extremely thin (8.4 x 2.6 mm) interface. This very small size will allow, on the one hand, to refine the design of computers, smartphones and tablets and, secondly, to integrate it into connected devices. Apple is not the only manufacturers to adopt USB-C port in its new MacBook but is also found on the latest Chromebook Pixel by Google and Nokia's N1 tablet.
Ultimately, we can hope that the USB-C's standardization will simplify users' lives by eliminating proprietary cables and chargers. But that's not all… The USB-C has the ability to power a device at 20 volts and 5 amps, with a potential power of 100 watts. Enough power to dispense off the AC adapters and battery chargers for the gadgets. With the Thunderbolt 3, Intel combines the versatility of the USB-C with the its high data rate transmission technolgy.
But the critical question is how much time will elapse before the new format becomes widespread? Intel has announced that the first Thunderbolt 3 enabled products would be available by the end of this year and their adoption will gain momentum in 2016.