Many people who process MacBook Air or MacBook Pro 2018 and later probably found that data recovery from those laptops is nearly impossible, according to Apple and other authoritative sources.
What makes the difference?
Mac notebooks which were released in 2018 and 2019 are equipped with the Apple's latest T2 security chip, which is a hardware component built in the Main Intel processor. This small chip brings new level of security to your MacBook from the exposure of personal data.
The introduction below will explain the new capabilities of T2-equipped MacBook and how those capabilities make data recovery impossible.
The T2 chip and T2 chip data recovery
As a whole, T2 chip makes the data stored on the MacBook more secure with advanced encryption and better integrity.
For instance, as an SSD controller, instead of software encryption like FileVault and encrypted APFS file system, T2 chip does a hardware encryption to protect the data, which even a user's password won't unlock. The T2 chip will verify the integrity of the booting process and make sure the Mac is booting from a trustworthy source. It will no longer allow the Mac to boot from an external drive, which protects the Mac from cyber attacks a lot. In addition, the fly encryption makes each T2 chip unique to each Mac, which makes the SSD unreadable after the removal from its original computer.
Those briefly mentioned examples are just some features of this second-generation security chip for Mac. The new capabilities make the traditional data recovery methods like target disk mode and traditional data recovery tool used by Apple's repair staff not work anymore. What's more, even data recovery software can't bypass the T2 security to access the data. Therefore, data recovery from T2-protected Macs becomes incredibly difficult.
About iBoysoft Data Recovery for Mac
iBoysoft is a startup company in data recovery and drive management industry. iBoysoft Data Recovery for Mac is its flagship product which is maintained to be one of the best Mac file recovery applications. It is an all-in-one solution for any data loss situations such as accidental deletion, mistaken formatting, disk corruption, and malware attacks. Like many other leading data recovery tools, it can restore files, pictures, videos, folders and others from all kinds of storage media.
What makes iBoysoft stand out among others? The most important advancement iBoysoft has made is that the software makes T2 chip data recovery possible. It can save the deleted and lost files from MacBook Air/Pro (2018 and later), iMac mini (2018 and later), Mac Pro (2019 and later) and iMac Pro.
How to restore files from MacBook Air/Pro with a T2 chip?
iBoysoft Data Recovery for Mac can help save files in two most common and needed scenarios.
Undelete files from Mac's hard drive: undelete files from emptied Mac's Trash
Get files off the Mac that is not booting up: get the files off an unbootable Mac that shows a white screen or stuck on Apple logo/login screen/loading bar, especially after the Mac has a system crash or has software/system updates.
To ensure the best recovery results, no matter how your files are deleted or lost, it is recommended to launch the software and conduct data recovery in Recovery Mode.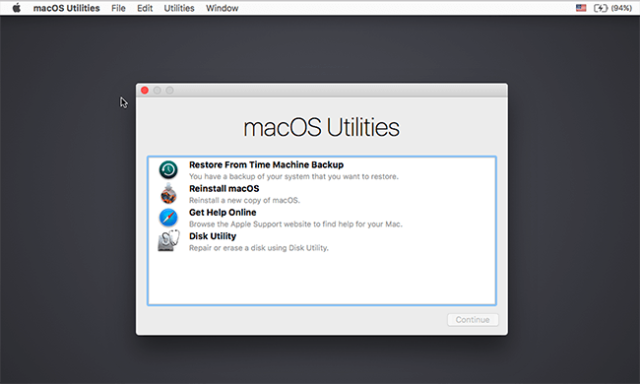 Here are the simple steps:
Restart the MacBook and press Command + Option + R instantly before the laptop restarts. Release the keys until you see a startup screen. After the startup finishes, you will see a macOS Utilities window with four options: Restore From Time Machine Backup, Reinstall macOS, Get Help Online and Disk Utility.
Connect to Wi-Fi and make sure your Internet is stable.
Click on the Utilities at the top menu where the Apple logo is. Run a command line to launch the software through iBoysoft's server. Since the command line keeps simplifying all the time, it is not clearly stated here. you can find the latest command line on its official website. In this way, you don't need to install the software nor creating a bootable disk.
Select a volume where data is deleted or lost and click on the Scan button. If you want to run quick scan for deleted files, remember to uncheck Deep scan first because the software may self-determine to deep scan the volume.
Preview the files and select what you want to restore. Insert an external disk with enough storage capacity. Click Recover to save the selected files to the external disk.
Deep scan usually takes a long to scan the disk depending on how much data on the Mac's SSD. Therefore, don't forget to check if you have recovered all important files before you exit the software. Also, you can utilize the Save sessions feature to store the scanning results for later recovery.
Conclusion
Data recovery from T2-protect MacBook Air/ Pro is now possible with iBoysoft Data Recovery for Mac. It is an evolutionary tool to save deleted or lost Mac files which used to be considered unrecoverable. If you don't have any important files to get back but need to boot up the MacBook, iBoysoft also offers feasible solutions to make the Mac start up.