BMW is working on a standalone system where a driver would use a connected watch to direct his car to go park itself and come back to the same place when asked.
Fans of the television series K2000 will recall those scenes where the hero uses his watch to communicate with his high-tech car which often acts on its own to rescue the driver from difficult situations. BMW wants to make this technology a reality.  During the next Consumer Electronics Show, to be held from January 6 to 9, 2015 in Las Vegas (USA), the automobile manufacturer will present a concept called Remote Valet Parking Assistant. This is a self-parking system controlled from an app running on a connected watch or smartwatch .
The usage scenario of this technology is surprisingly simple. When the driver arrives at the entrance of a multi storey parking, he gets out of the car and taps his watch to command the car to go, find a vacant parking place and park itself. The vehicle is running and, once parked, locks itself automatically. Back from his appointment or his shopping trip, the driver calls the car with a simple voice command set via his watch. Car starts itself and comes back to the place where the owner left it.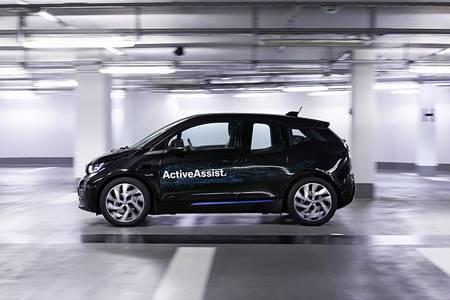 BMW is currently testing this technology on its i3 electric model with a collision avoidance system based on four scanner lasers that map the environment and detect obstacles. In a parking lot, for example, if the vehicle approaches too close to a wall or pillar, the system triggers braking. It is capable of maneuvering to fit into one location and can even detect unforeseen obstacles such as another badly parked car.
BMW states that information from laser sensors is used in conjunction with digital map. This allows the car to geotag itself without using a GPS which often does not work in the buildings. The other advantage is that it is not necessary to equip the parking with any particular electronic system for this system to work. The only requirement is to provide a blueprint detailing the structure of the building. BMW has not provided a specific date for the introduction of this technology in actual vehicles. But it is likely that some of these innovations, including collision avoidance system are offered as an option to assist drivers in delicate maneuvers.