When a regular user opens their Inbox, they see the same emails they saw 5 years ago: text, images, CTA, maybe more social icons. That's why it may seem that email marketing is a stagnant industry that doesn't undergo changes at all.
But email marketers and designers know that there has been much improvement behind what we call modern email design. Off-grid layout, mute colors, custom fonts, user-generated content, dynamic elements, gamification, personalized product recommendations – there are many innovations that shape the modern email layout and copy, even if the recipients can't visually define them.
AMP (Accelerated Mobile Pages) also belongs to such innovations, and it's probably the biggest email trend of the last several years. Introduced by Gmail back in 2018, the technology has been developed and improved and nowadays is supported on both desktop and mobiles.
What is AMP for email?
Roughly speaking, AMP-supported emails enable their recipients to perform certain actions straight in the email body, without uploading extra pages.
These actions include:
product range browse;
order placement;
booking;
feedback, review, survey;
gamified activities.
The recipient of the AMP email can shop, book the appointment or hotel room, leave a product review, or solve a promo code puzzle in the email copy, without going to the website. It's really convenient and is expected to take customer experience to the new level.
Since it's always better to see than to hear, let's take a look at the below email example with an AMP feedback form.
Email with an AMP form in Gmail on desktop
As you see, visually it looks like a regular email but technically it's more functional. Usually, email feedback forms only direct to third-party services like Google Forms or a website page. However, with an AMP-supported form, the user can share their experience right in the message. The answers are sent to a data service where you can download and view them in a convenient Excel file.
Other AMP elements, like, for example, an accordion and carousel, look different but serve the same purpose – help the user solve their task more easily without extra clicks and upload waiting.
Do I need to add AMP to my marketing techniques?
The main advantage of the AMP technology is the sense of novelty and entertaining vibes it brings to any email. Due to the abundance of information around, the attention span of the modern audience is getting shorter and shorter – people are afraid of missing out on something important and are ready to spend about 8 seconds to consider your offer.
Which means that catching attention comes first in your marketing strategies, and AMP is the tool that can help fulfill the task. It has other benefits as well.
Pros
Smooth shopping experience. With AMP elements, you don't lose customers in between the email and website. A person can place an order (choose a model, size, color, pattern, etc.), or make a booking (choose a date, room type, appointment hours, etc.) in the email without spending extra seconds (see the paragraph about short attention span) waiting for the website page upload.
Relevant offers. AMP uses the website data in real time. And since emails are long stored in the Inbox and can be open several days after delivery, your recipients won't see expired deals or out-of-stock products regardless of when they open a message from you. That's especially important for limited offers or flash sales that expire soon.
Extra info is hidden. One of AMP elements, an accordion (see image below), can help hide the information the recipient might not need at the moment of reading. It's a useful functionality for long promos when you send several big offers. A person may skip now irrelevant data without long scrolling. And on the other hand, a simple click helps get more details on the interesting offer right aways without going to a website catalog.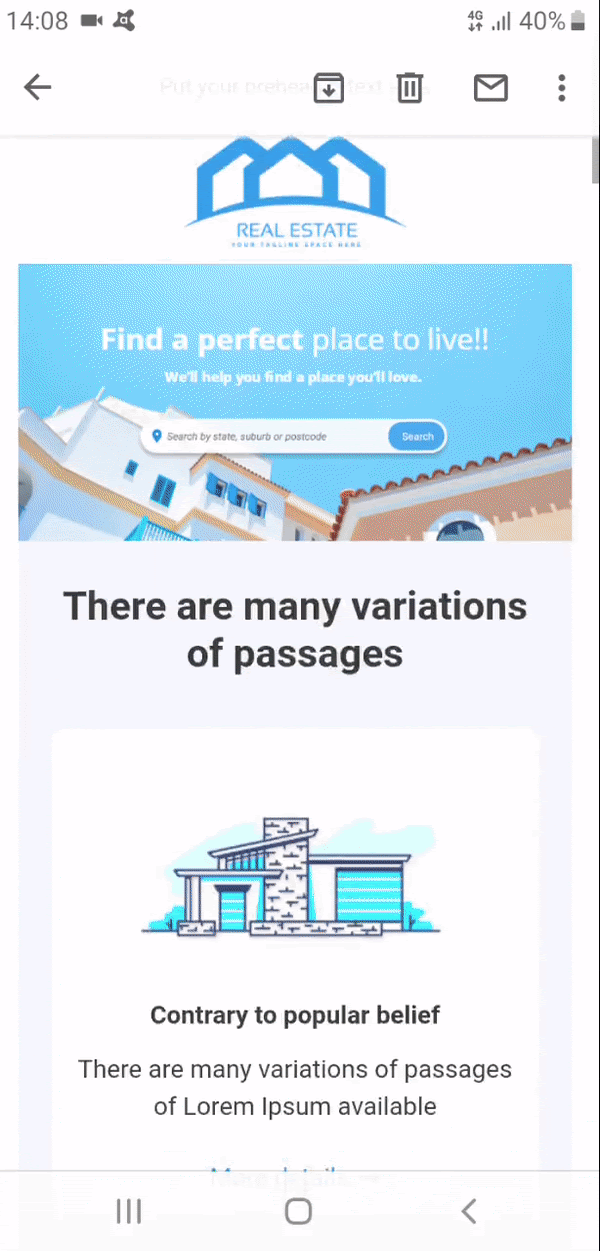 Email with an AMP accordion in Gmail on mobile
Better engagement. You can create gamified content for deeper customer engagement. Imagination is your only limit when it comes to AMP applications for custom design. Take a look at this AMP-supported quiz that is designed as a chatbot. It's definitely something new and differs from your ordinary email. It catches attention and encourages longer interaction with the campaign. And the longer it is, the more chances it would prompt an intended response.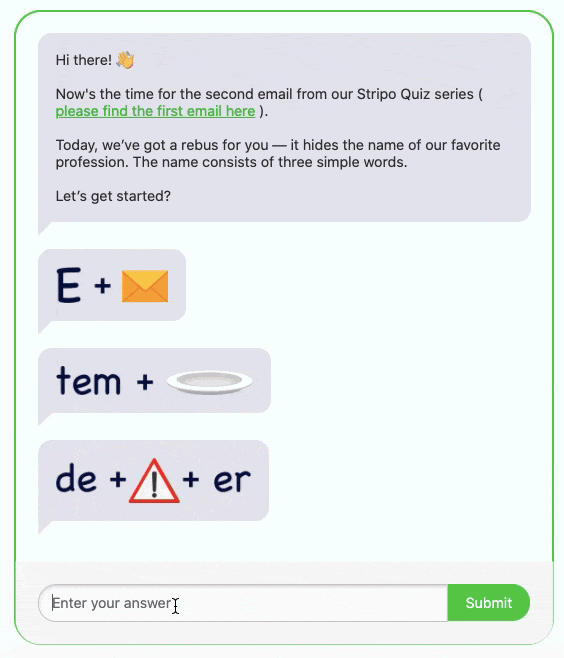 AMP quiz by email builder Stripo. Source
Cons
Every technology has its cons and AMP is no exception. But I believe that the biggest challenge of working with AMP is getting started. People always feel confused about new technologies and see them as too complicated when they're actually not.
Registration with Google. To send dynamic emails, you need to be whitelisted by Google as a trusted sender. The procedure takes several steps, but the most important one is domain authentication. If your emails don't pass them, you'll see this error notification on top of the email with AMP content, and won't be able to actually see this content.

Limited AMP support. As for now, only Gmail, Mail.ru and Outlook support AMP content. Yahoo! has also announced it but the implementation is still coming.
You still need to create an alternative HTML version. As said in the previous position, not all email clients support AMP. That's why you need to create a backup HTML version that will be displayed instead of the AMP block in case the recipient's client doesn't render it.
To sum up
AMP could bring numerous benefits to your email marketing such as seamless shopping experience, more convenient email navigation, easy interaction with the content, better engagement and eventually more clicks and purchases. And they are definitely worth the bother at the initial stages.
To ensure the success of your AMP campaigns, choose the professional email marketing platform that supports AMP and offers ready blocks you can use without code editing (for example, eSputnik, Stripo, Litmus). This way, it'll be easier to get started and surprise your subscribers with awesome engaging messages.
Author's Bio
Iuliia Nesterenko is a technical writer at eSputnik. Her focus is on exploring current digital marketing trends and describing new strategies for email marketers.