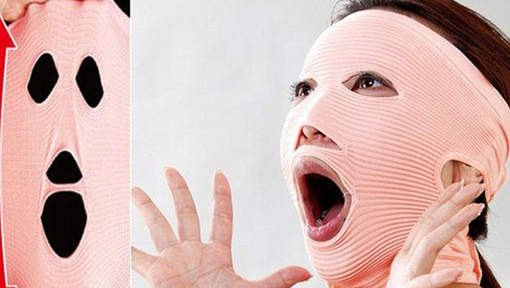 The publicity photos of the Facewaver Exercise Mask are not really attractive. However, the Japanese company who made these masks is really adamant that using this mask can significantly reduce the wrinkles on your face.
The mask in question is described as the new way to have a younger face and fresh look. The mask is used in a simple way. You have to wear the mask five minutes a day. The use of mask is quite simple and efficient, since you have to wear the mask five minutes a day and make every conceivable grimace on your face in order to exercise all the face muscles that are not being used normally. The company claims that this five minutes daily exercise would ultimately improve blood circulation on your face, reduce wrinkle and make it look much younger. The mask costs just costs 80 dollars, even less than the price of a session in a beauty parlour. 

Finally, even if the famous mask does not work after the trial you can still use it for Halloween and to frighten the naughty kids.