Currently the design of the hoverboards is still in the prototyping and research phase. However, this did not stop "Tez Gelmi", a loving Geek father who wanted to give a unique gift to his daughter. For this he used all his crafting skills to design a rocking  74-Z speeder bike wooden model.
The passionate of the Star might well remember 74-Z Speeder Bike as it was first seen in 1983 Star War's Episode Return of the Jedi. Where Imperial Scout Troopers had used it to chase the Luke Skywalker and Princess Leia Organa.
Although Tez had underestimated the effort and the time required to make such a model, still if you feel passionate and motivated you can follow the instructions given be him on Instructables to try it out.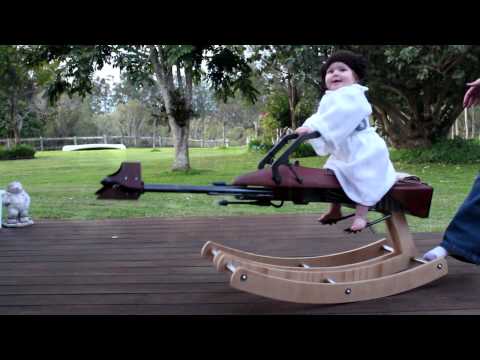 Indeed we are touched by the father's love for his daughter and impressed by his craftsmanship. And you, what would you like to give as a gift to your first born?