As marketers pivot towards online marketing to increase brand awareness, video content appears to be the preferred choice. Animoto's 2018 State of Social Video: Marketer Trends report, more than 70% of marketers surveyed made at least two videos every month for various social media channels. The reason: videos are engaging and provide an interactive way to boost traffic and sales.
However, making or editing videos isn't as easy as writing a blog or a social media update. And it is certainly not cheap. That is why we have compiled a list of eight video editing software that can transform raw footage into a video that everyone would love sharing and discussing.
1. VSDC
Decent software for beginners, VSDC has all the essential features to edit brand videos, including blend overlays and masks. The software also allows users to control the video speed and add filters transitions. If you'd like to have cinematic and want to experiment with green screen footage, then VSDC offers free filters as well.
Price: Free.
2. EaseUS Video Editor
EaseUS Video Editor is an easy-to-use platform that allows users to produce professional-looking videos without much technical know-how. The software has more than 50 visual effects and transitions to add overlays, colored filters that include a palette of pastel colors, and superscript (among other things). EaseUS Video Editor also has other essential tools to adjust elements like speed, saturation, and hue.
With EaseUS Video Editor, you can import and create a medley of several audio tracks or record your voice. The videos exported from this platform can be played on all major mobile devices. The only drawback of the platform is that it can only operate on PCs and laptops.
Price: Free trial available for a limited period. Users can opt for a pro plan, which is billed at $17.97/month.
3. Shotcut
Shotcut comes with cool video and audio filters that can help your videos stand out on social media. The only drawback: limited export formats and online support communities. If you want videos for YouTube or Facebook marketing, then this may not be the best option.
However, since the video editor platform is free of cost, there is no downside of using it for basic video editing and promotions on Instagram and Twitter.
Price: Free.
4. Adobe Premiere Clip
Adobe Premiere Clip is a free app that lets you edit your videos on-the-go! Adobe Premiere Clip has a user-friendly interface and includes a huge collection of filters and background music. With a paid Creative Cloud account, you can connect your mobile with your laptop and finish video editing on your phone or laptop according to your convenience.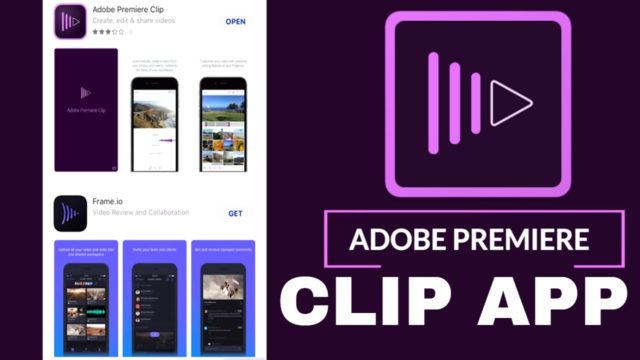 Ideal for marketers who are always on the move, the platform allows you to post content on social media from your phone. The only drawback: Adobe Premiere Clip doesn't have clip rotation feature, forcing people to film in the traditional, horizontal orientation.
Price: Free
5. Lightworks
Lightworks is a robust video editing solution that works efficiently on Mac and Windows. It has a wide range of preset video formats and lets you create proxies, which implies that you can edit the video in lower resolution and increase it just before exporting. The software also has easy timeline editing, making it ideal for budget-conscious marketers.
Lightworks is recommended for people who prefer posting videos on social media since the export options provided by the software are best aligned with the video dimensions recommended by these networking platforms.
Price: While the software is free, it only allows the export of videos with 720p web resolution. For higher resolution, you need to pay extra.
6. PowerDirector
PowerDirector gives every bang for your buck and is one of our favorite picks. It supports a range of advanced features such as 360 footage editing, motion tracking, and key-framing. It is very user-friendly and is best suited to create complex, creative videos to leave a lasting brand impression.
PowerDirector can appear a little overwhelming if you are a beginner, but with its online community and tutorials, you can be a pro in no time.
Price: Free trial, after which the platform is billed at either the $100 or $130 depending upon the version.
7. Invideo
InVideo is a great online video editing platform that offers a range of features at an affordable price. It can be used to create and edit videos by companies across all industries. With advanced editing options, a library of videos and images as well as more than 1,500 pre-built templates, it is a preferred option of marketers with several business needs such as marketing, events planning, branding, Instagram stories, etc.
Invideo's automatic text-to-speech feature makes it stand out from the rest. It can help you transform your text into voice-overs, with your choice of templatized voices in multiple languages. It also has comprehensive reporting and analytics to understand your marketing videos' social reach and impressions.
Price: InVideo has two pricing tiers that can be billed monthly or annually. The price starts at $20/month. Users can also opt for a free plan, which includes up to 60 video exports in a month, with a watermark.
8. Avid Media Composer
Of all the free video editing solutions, Avid Media Composer is the most sophisticated software. The platform comes with several high-end tools like color correction, speed control, and footage stabilization that can quickly transform your video's look and feel. It is most suited for businesses that want to fine-tune their videos and add some polish without investing money.
The free plan of Avid Media Composer doesn't support 4k. It also doesn't have several image formats. However, its nominal price of $19.99 a month isn't a deal-breaker and can do magic to your marketing videos.
Price: Free. The paid version starts at $19.99/month.
That is all Folks!
Whether you're a beginner or a pro video editor, we hope our list of video editing tools will help you take your marketing videos to the next level.