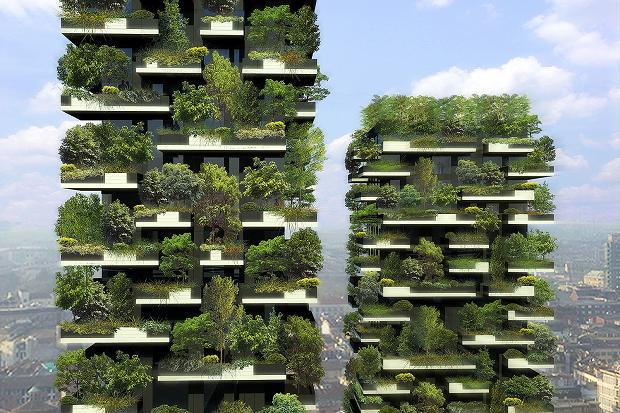 This is the world's first urban reforestation project. Twin residential towers of 27 floors are being constructed in Milan. The towers will be covered with some 730 trees and 11000 plants, grown artificially. The building will be autonomous in its energy needs, using windmills and solar panels installed on the top of the building. The building will be designed to reduce the air and noise pollution in the city. 
Located in the Isola neighbourhood at the heart of Milan city, the two eco-freindly towers named "Bosco Verticale" (the  Vertical Forest ) are the work of an Italian architecture firm Stefano Boeri. A unique vegetation project that will enable the growth of 730 trees and no less than 11,000 plants on an effective covered are of some 10,000 m2.
The construction of these residential towers 110 and 76 m high will cost 65 million euros. This vertical Forest is meant to act as the green lungs of Milan which is one of the most polluted cities of the world.
Taking advantage of wind turbines and solar panels installed on the towers, the buildings will be fully autonomous in terms of energy. A collaboration between architects and botanists, the choice of plants lasted two years. The details about which plants to place on which floor depending upon temperature and exposure to the Sunlight were meticulously chalked out.