Your home heating and cooling system is a vital life support during the harsh Canadian winters and summers. If you are like most Canadians, you probably have the furnace nowhere in the back of your mind, until it stops working. But the more you know about the basics of your home's heating and cooling system, the better you will be able to maintain it or choose a new one. Below, we offer you some suggestions on what issues can happen and a few tips to override the problems.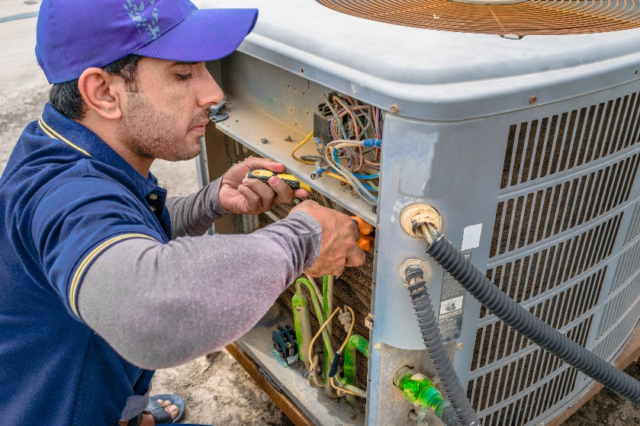 First, a quick note: If you need heating or cooling services here in the GTA, we can help address your queries, regarding installation, repair or routine maintenance. We have qualified technicians who are well versed in provincial regulations and codes, and who can quickly fix your HVAC problems.
As technicians from "Lennox AC and Furnace Repair" argue, most Canadian homes and commercial establishments have the central air conditioning system, which is basically a split system, with an outdoor AC, or compressor unit and a furnace coil. The compressor, which uses electricity as the power source, pumps refrigerant to collect heat and moisture from inside the house and pushes it outside. The warm air inside the house is blown over the cooled indoor coil, which in turn removes heat and moisture from inside the house and heat in the air transfers to the coil, thus cooling the air inside the home. The heat that has transferred to the coil is then pumped outside, while the cooled air is pumped back inside, thus maintaining a comfortable indoor temperature.
An air conditioner creates a conducive environment that fosters sound sleep and gives added comfort and convenience in homes as well as a work setting, by lowering the air temperature and the humidity level in the space. One of the most common problems with the cooling system is improper operation. If your air conditioner is on, make sure to keep your home's windows and doors closed. Other common problems with existing air conditioners result from incorrect installation, poor service techniques, and inadequate maintenance. Improper installation of a central air conditioner can result in leaky ducts and reduced or nil airflow.
Some common reasons your AC may have stopped working are:
Electricity issues
Thermostat issues
Clogged or damaged filter
Build up
Dirty compressor
Low/ zero refrigerant
When the summer sun is here or a heatwave is approaching, the last thing you want to deal with is an AC that does not blow cold air. If your air conditioner blows warm air or stops working, the most important solution is to find the source/ root cause of the problem and informing any findings to your technician helps. This will ensure better preparation for solving the issue and repairing your AC faster, in addition to addressing any potential problems as quickly as possible. A broken or malfunctioning air conditioner is not only an inconvenience but also a serious health concern when temperatures soar.
First, start by checking the fuses or circuit breakers. Let the unit cool down for ten minutes before resetting any breakers. If a central air conditioner's compressor stops on an extremely hot day, the high-pressure limit switch may have tripped; go ahead and reset it by pushing the button which is in the compressor's access panel. If none of the above works, it is always better to call professional HVAC technicians to fix the issue with your cooling system. Additionally, here are a few troubleshooting tips for you to consider if your AC stops blowing cold air.
Replace the old air filter
AC works properly with a clean filter. Usually, a filter needs to be replaced every two months, or your unit may have a different specification. You can go ahead and change the air filter yourself. Though a clean filter is always advisable, your problem of no cold air could still be there, which would mean that the furnace coil is dirty, and this has to be replaced. The best course of action is to call a technician, since the coil is usually inaccessible and much more complicated to clean/replace.
Check condenser for air-flow block
Over time, there will be a build-up of materials such as dirt, dust, leaves etc, which can hinder the working of the AC. You can remove leaves and other debris from your AC unit yourself, but to ensure your condenser coil gets a good cleaning, you will want to ring in a professional.
Check refrigerant levels
The refrigerant in the AC units can leak, which would mean it needs to be recharged. If the rest of your AC is fine but it is not blowing cold, you will probably be needing more refrigerant. It is best that you call a professional to do this as most cooling systems are generally quite complex and safe practices need to be ensured while handling refrigerant.
The most common and simplest task that you can do to keep your AC working is to check and replace the air filter. However, with all these common reasons that hinder the performance of an air conditioner blowing cold air, the best approach, would be, a regular maintenance routine, so that your unit functions perfectly during the hottest days of the summer. This would comprise of standard air conditioner repair, cleaning and aftercare and replacements to keep your unit in great shape, up and running. As such, without proper care, air conditioners are prone to breakdowns. Even with regular maintenance, an ageing air conditioner can experience problems. The key is to know when to DIY, call a tech or purchase a new one.
Need our advice? Let our experts handle your HVAC worries, be it repair, maintenance or a new system, and you can bask in the cooling effect.