LS3 is the mule robot developed by DARPA which was later acquired by Google. We had not seen any new performance of the robot since 2013. However, during RIMPAC, the quadruped robot was first tested in real conditions by US Military.
Rim of the Pacific Exercise (RIMPAC) is held every two years on American soil in Hawaii. This is an exercise which also involves marines from various other countries (Australia, Canada, UK, China, Russia etc.). The exercise is headed by the United States Pacific Command (PACOM).
During RIMPAC 2014, a group of Marines used the LS3 (formerly known as the AlphaDog and BigDog). It is a robotic mule, designed on the morphology of animal of the same name. It is used to carry heavy loads (180 kg) to relieve the backs of infantrymen. It can work on almost all the terrains.
Three Legged Squad Support System or LS3 participated in an exercise with participants from 22 countries, 55 ships, 200 aircraft and 25,000 persons.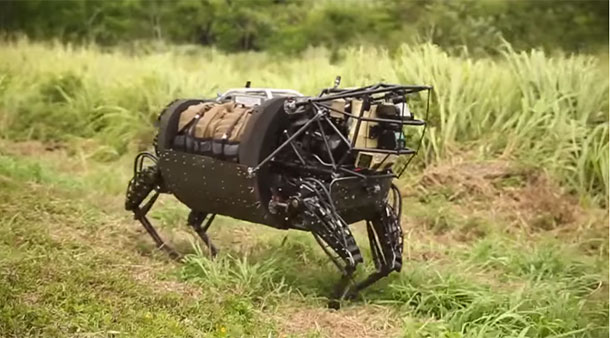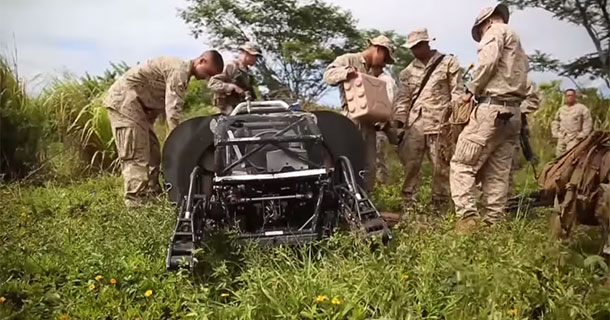 Prowess of LS3 lies in the fact that it is able to follow the soldiers on almost all the terrains whether there are trees, tall grass or mud.This it is not possible with a traditional, less manoeuvrable vehicle. This robot is still in prototype stage. However, this allows DARPA to test new technologies for future battle fields. But the soldiers who work with it, already consider it as their companion just like the patrol dog.