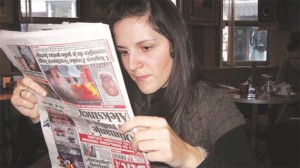 A serbian woman "Bojana Danilovic", aged 28, suffers from a rare form of brain dysfunction. She sees everything upside down. To read a newspaper or a book or to watch a television, she has to place invited.
"For me, everything is normal"
Doctors and neural scientists are scratching their head over her strange condition. She Suffers from a  rare disease  called "spatial reorientation phenomenon".  When the information from the eyes reaches the brain, it is processed as an upside-down image.  
This unique problem has affected Bojana's daily life. Reading the newspaper upside-down creates troubles for her in the public places as many people approach her to inform her that she is holding the newspaper wrongly. Some people even make fun of her. Bojana, an economic expert, uses a special computer with inverted screen and keyboard at her office.
However, despite all these difficulties she is happy. "  It may seem incredible to most people, but for me, everything is normal. I was born this way. I see the world this way , " she explains. However, her only regret is she cannot drive as she could not get the driver's license.